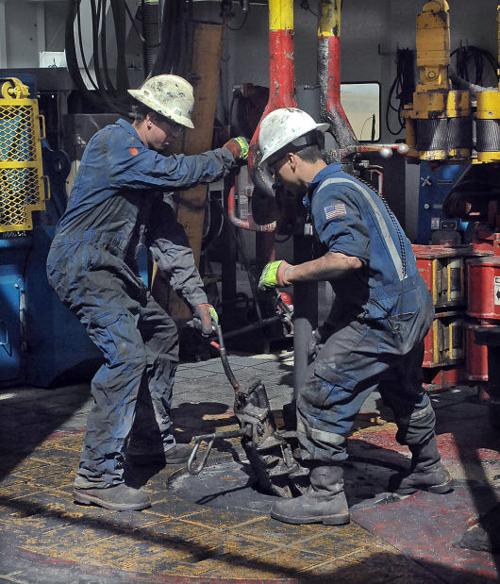 Oil production began to increase at a sharper pace in May, and production is expected to increase further during the summer months, according to North Dakota's top industry regulator.
Preliminary numbers for May put North Dakota oil production at more than 810,000 barrels per day. It was an increase over the nearly 794,000 barrels per day in April.
"We finally broke through that 800,000 barrels-per-day barrier," said Lynn Helms, director of the state Department of Mineral Resources.
For the month of May, total production was more than 25.1 million barrels, up from 23.8 million of total production in April.
Natural gas production was just shy of 900,000 million cubic feet per day, also a record. In April, daily natural gas production was at more than 861,000 million cubic feet.
A record 8,915 wells were producing oil in the state.
On Monday, there were 186 active drilling rigs in North Dakota, which still remains the No. 2 oil producing state behind Texas.
Helms said the number of wells waiting to be hydraulically fractured increased slightly in May to around 500.
The large inventory of wells waiting to be fracked has kept the number of drilling rigs in the mid-180s. It also is expected to lead to additional fracking crews being brought in, as well as increased activity during the summer months, Helms said.
"We will see, at least on a temporary basis, an increase in people in Minot, Dickinson and Williston," Helms said. "We're anticipating 20,000 barrels per day increases in June, July and August."
Justin Kringstad, director of the North Dakota Pipeline Authority, said the percentage of natural gas being flared off instead of collected remained unchanged. It stood at 29 percent in May.
As explained several times previously, Kringstad said the issue with natural gas isn't capacity. He said it's an issue of getting gathering systems in place from individual well sites to pipelines and processing facilities.
With multiple new natural gas processing plants and new pipeline projects coming online in recent months, North Dakota has approximately 1 billion cubic feet per day of processing capacity. Total capacity is estimated to peak at about 1.5 billion cubic feet per day, according to Kringstad.
Kringstad said with the construction of additional pipeline infrastructure, the amount of gas being flared should begin to decline at some point.
"I'm expecting some good progress," Kringstad said. "I don't want to wave the victory flag just yet."
Flaring in North Dakota is sharply contrasted with other oil- and gas-producing states. According to the U.S. Energy Department's Energy Information Administration, approximately 1 percent of all natural gas in the country is flared.