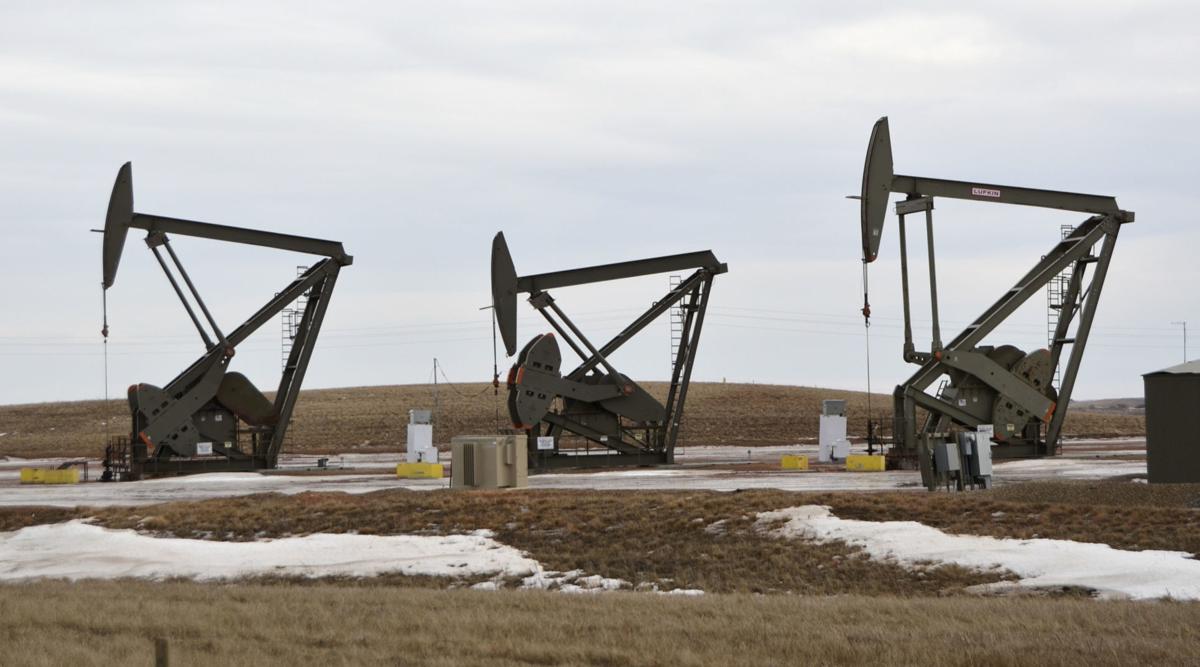 Oil producers are divided on one of the items state regulators are contemplating in response to low crude prices: imposing limits on oil production.
North Dakota on Wednesday became the latest state to hold a hearing on the prospect of issuing government-mandated production cuts following the recent oil price collapse amid the coronavirus pandemic, which sent demand for crude plummeting. A number of mineral owners, including members of the Three Affiliated Tribes, testified that they were not keen on the idea.
Of the 11 oil producers who weighed in either in-person at Wednesday's hearing before the North Dakota Oil and Gas Division or submitted written comments, eight were opposed to such a move, saying that regulators should leave it to each company to decide how to respond to oil market conditions. Two companies advocated for the state establishing production quotas and one did not take a stance on the idea.
Among those asking the state government to step in is Continental Resources. A company representative urged regulators Wednesday to coordinate with producers to best make use of storage facilities and other infrastructure, as well as to reduce natural gas flaring at a time when many operators are choosing to idle wells and halt some of their production.
"When the industry as a whole creates patchwork reduction and does it on their own, individually without coordination, we become uneconomic as an industry," said Blu Hulsey, senior vice president of government relations and regulatory affairs for Continental.
He envisioned a scenario where one producer shuts down all their wells while another keeps theirs operating, leading to "huge amounts of flaring on one side of the play, zero on the other."
"That's not the best way to use our infrastructure," he said. "Is there a way the Industrial Commission could inject itself into those kinds of conversations?"
The head of another producer, Slawson Exploration, wrote to regulators suggesting a cap of 500 barrels per day on each well until oil prices rise to more than $60 per barrel.
President R. Todd Slawson wrote that with oil prices around $30, many companies "will increase production when they should be staying curtailed to reduce the oversupply in storage and allow demand to return to close to pre-pandemic levels."
"This rush to produce will keep the US oversupplied and thus elongate the recovery for many years just like after 2014," he wrote, referring to the last oil and gas industry downturn.
Many other companies, as well as oil industry trade groups, say the government should steer clear of such intervention.
"Industry has responded to the very loud messages sent by the market last month," North Dakota Petroleum Council President Ron Ness told regulators.
Oil prices were particularly volatile in April, even turning negative at one point. Companies dramatically cut back their operations in North Dakota, idling about 7,000 of the 16,000 oil wells active earlier this year. State officials estimate that has caused the state's oil production to fall below 1 million barrels per day. The number of rigs drilling for oil has dropped from the mid-50s to just 13 on Wednesday.
Ness added that "swift and efficient action" by state regulators this spring offering companies greater flexibility in idling wells "essentially removed government barriers for individual companies to make economic choices based upon their own best interest."
He urged state officials to conduct a cost-benefit analysis of regulations on the oil industry and to remove requirements that do not improve health, safety or the environment. Lifting such regulations could determine whether a company keeps a well producing or a rig operating when oil prices are low, he said.
North Dakota officials sought feedback at the hearing on whether to classify oil as a "waste" at a certain price. State law prohibits the waste of oil and gas that is produced in excess of market demand or of transportation and marketing facilities.
State Mineral Resources Director Lynn Helms said at a press briefing last week that if regulators were to determine that producers were not adequately shutting in wells to prevent waste, they could impose production limits.
The state has enacted such limits before during the 1950s in the early days of the North Dakota oil industry when there was only a small demand for oil from the state. There were no pipelines to carry crude to market, so it had to be taken to refineries by train, Helms said. The startup of the Mandan refinery helped alleviate the need for production quotas, which were lifted in 1965.
In recent weeks, regulators in Texas and Oklahoma have entertained imposing production limits, something OPEC has done in recent years to try to prop up crude prices as its nations compete with oil from U.S. shale plays like the Bakken. Texas nixed the prospect of production cuts earlier this month.
May, so far, has experienced higher oil prices than April with demand climbing as states lift pandemic-related restrictions on businesses. West Texas Intermediate crude, the U.S. oil pricing benchmark, was trading for around $33 per barrel during Wednesday's hearing. 
"We're hoping that the worst may be past us," said Dean Foreman, chief economist for the American Petroleum Institute.
His group, the largest oil and gas trade group in the United States, opposes state-mandated production limits. He said that regulators in Alberta, Canada, instituted what were supposed to be short-term production limits in January 2019 to try to boost prices for oil produced there. While the tactic seemed to work initially, prices later fell and the cuts remain in place over a year later.
Mineral owners weigh in
Mineral owners who testified at Wednesday's hearing did not appear to want the state to mandate any sort of production limits, saying such a move could have consequences for leases and lead to jurisdictional issues pertaining to wells on the Fort Berthold Indian Reservation.
Ken Hall, a mineral owner and board chairman for Missouri River Resources, an oil company operated by the Three Affiliated Tribes, recommended that the state start a consultation process with mineral owners on the reservation.
"Any type of proposed state regulatory actions to respond to the recent drop in oil prices should be worked out directly with MHA Nation and the allottee mineral owners who control 70% of the land on the Fort Berthold Indian Reservation," he said, using the acronym for Mandan, Hidatsa and Arikara.
Many oil leases contain provisions that allow for the termination of the contract if an oil well stops producing for an extended period of time.
Joletta Bird Bear, a mineral owner and president of the Fort Berthold Protectors of Water & Earth Rights, said state intervention might keep leases valid and "will burden thousands of allottee mineral owners of the Three Affiliated Tribes." Such a move could prevent a mineral owner from being able to terminate a lease and negotiate a new one with more favorable terms, she said.
The state of North Dakota is also a major mineral owner, with money from the development of state-owned minerals benefiting public education.
The Department of Trust Lands, which manages those minerals, does not want the state to designate oil production as a waste, Land Commissioner Jodi Smith wrote in comments to the Oil and Gas Division.
Such a move "could result in a major loss of revenue for the State by unnecessarily curtailing production and dramatically extending the terms" of state leases, she wrote. She estimated that if regulators were to intervene, state leases could be extended up to two years with her department "having little or no control over when the leases resume."
She added that the department already has procedures in place that allow a well to idle for up to a year without jeopardizing its lease.
Regulators did not make any decisions at Wednesday's hearing. A spokeswoman for the Oil and Gas Division said any action that could come from the hearing would have to go before a vote of the full Industrial Commission, which next meets May 29.
Be the first to know
Get local news delivered to your inbox!