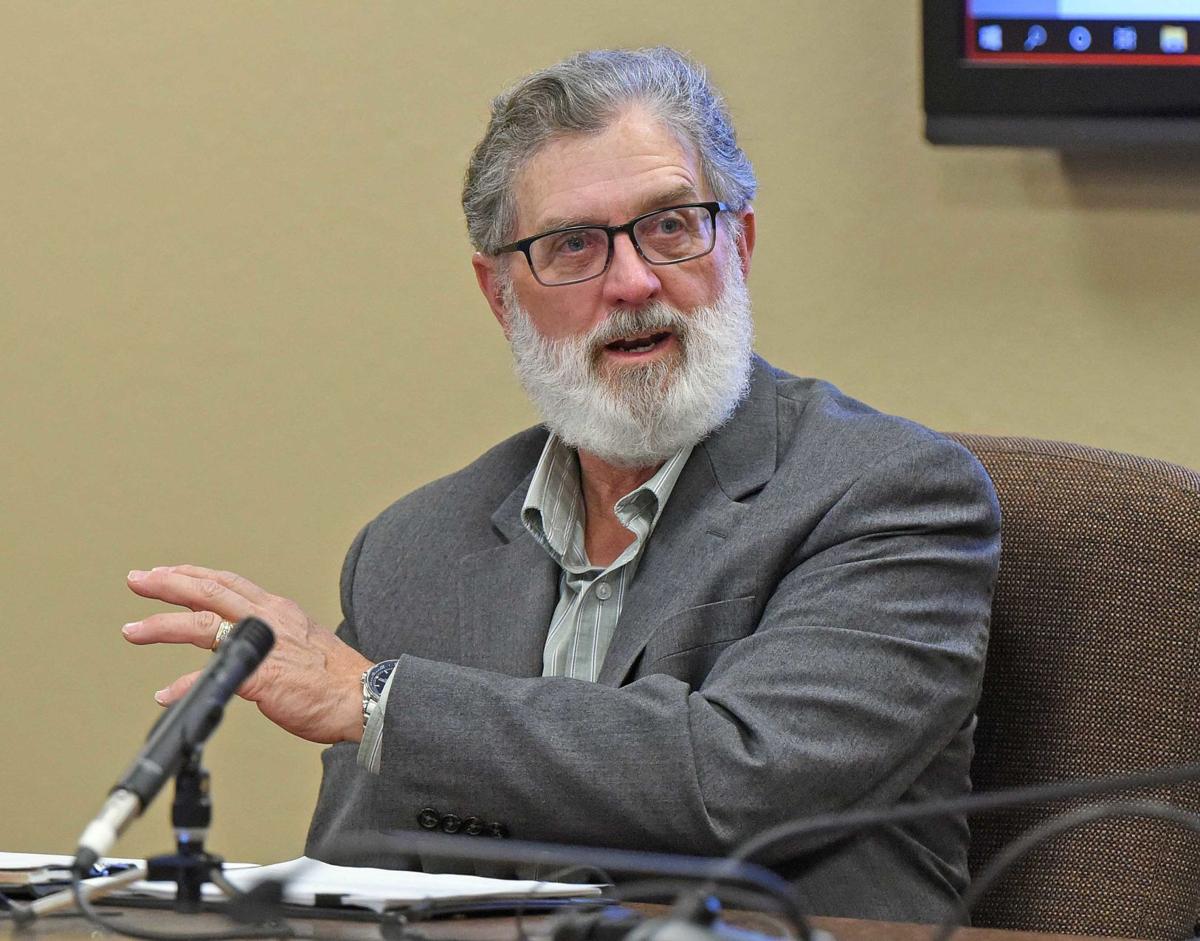 North Dakota's oil output has climbed since bottoming out this spring amid the coronavirus pandemic, but a top regulator suspects the state has reached a plateau.
"This may be as good as it gets for a while," State Mineral Resources Director Lynn Helms said Tuesday during his monthly press briefing.
Oil production in North Dakota in September grew 5% over the previous month to 1.22 million barrels per day, according to figures released by the state Oil and Gas Division. September is the most recent month for which data is available, as there is a lag due to the time it takes the state to compile data.
The uptick between August and September stems from wells brought back online after they were previously idled, Helms said. Producers shut in thousands of wells throughout western and northern North Dakota when oil prices collapsed this spring at the start of the pandemic.
Oil was trading for around $41 per barrel Tuesday, according to the U.S. pricing benchmark. Prices would need to climb to around $45 per barrel to prompt companies to finish fracking newly drilled wells, a necessary step to start production, and to $55 per barrel to lead to more widespread drilling, Helms said.
The output from an oil well declines over time, and the number of new wells brought online is not keeping pace, he said. As a result, production is unlikely to grow in the months ahead.
State leaders have directed $16 million in federal coronavirus relief aid toward offsetting the cost of fracking wells, which is expected to keep production from falling steeply in future months. Fracking, also known as hydraulic fracturing, involves injecting sand, chemicals and water down a well at a high pressure to crack rock and release oil.
Oil companies can receive a reimbursement up to $200,000 for the cost of water acquisition and disposal to frack wells that have been newly drilled but are sitting idle. Helms said the state has received 96 applications to use the money and has approved 60 so far. Regulators anticipate the money will go toward 80 wells, which must be fracked before the end of the year to be eligible.
The pending change in presidential administrations is prompting some new activity in the Bakken. President-elect Joe Biden said on the campaign trail that he will ban fracking on federal lands, which he could do by prohibiting federal oil permitting or leasing. Slightly less than half of North Dakota's drilling units contain federal minerals.
Producers are applying for federal permits, even though the price of oil is low, in an attempt to secure them before a potential ban, Helms said. He also attributed a small jump in the state's rig count to the potential for a ban.
"I think that's why we're seeing 2-3 more drilling rigs than economics would indicate," he said.
Fourteen rigs were active Tuesday, up from the single digits earlier this year.
The policies Biden might put forward for oil could take two years or so to implement, Helms said.
Flaring
State officials were happy with natural gas figures reported Tuesday, as the percentage of excess Bakken gas captured at well sites grew to 94%. The state is meeting its target of 88%.
North Dakota produced 2.8 billion cubic feet per day of gas in September, a 7% monthly increase.
For years, North Dakota has been plagued by the flaring or wasteful burning of excess natural gas, which releases carbon dioxide and various pollutants. The percentage flared dropped over the past year as new pipeline and processing plants came online and gas production fell alongside oil amid the pandemic.
A trade group touted oil industry efforts to curtail flaring in a statement Tuesday.
"We have invested almost $20 billion to build more gas gathering and processing infrastructure to achieve our gas capture goals," said Ron Ness, president of the North Dakota Petroleum Council. "A great deal of planning and effort has gone into this achievement and I want to commend the state for being a strong partner with industry, especially given the difficulties we have faced this year with the collapse in prices and demand."
North Dakota's gas capture target rose to 91% on Nov. 1, but the state won't have data for November's gas production until January. Helms did not anticipate a problem meeting it, saying that gas capture "looks really strong."
North Dakota Pipeline Authority Director Justin Kringstad said it appears as though the state will need additional gas infrastructure, such as pipelines and processing plants, in four to six years to stay on top of the flaring issue.
Be the first to know
Get local news delivered to your inbox!