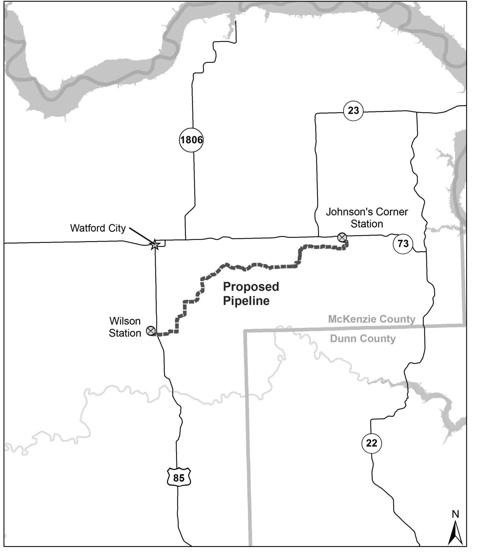 North Dakota regulators have approved a pipeline project in McKenzie County that will direct more Bakken crude to a Wyoming oil hub.
Bridger Pipeline plans to convert 27 miles of an oil gathering pipeline into a transmission line. It also will build an additional 2.4 miles of pipe to extend the line, which will run from Johnson's Corner east of Watford City to Bridger's Wilson Station south of the town. Other pipelines will transport the oil to Guernsey, Wyoming, and then to market in other states.
Gathering lines tend to be smaller, collecting oil from wells, whereas transmission lines tend to be larger, taking oil from central locations such as a terminal or storage facility to market.
The state Public Service Commission voted unanimously Wednesday to authorize the project. Commission Chair Julie Fedorchak said she sees it as a sign of the Bakken's recovery following the oil downturn brought on by the coronavirus pandemic.
"Any time these companies are adding more infrastructure and spending money, I think it shows a belief this play is here for the long haul," she said. "I feel that it sends a strong message this company and others are still pretty hopeful and confident in the future of the Bakken."
She said commissioners "feel very comfortable" with Bridger's pipeline monitoring plans after discussing them with the company at a hearing earlier this year.
Fedorchak referenced past sloughing issues the company has faced, saying Bridger has since focused more on land stability and pipeline monitoring. Bridger is part of True Companies. A pipeline operated under a different True Companies subsidiary leaked 12,615 barrels or 530,000 gallons of oil in Billings County in 2016 when a hill slumped.
Bridger told the PSC it will review pipeline rights of way for erosion and slumping as part of its annual system monitoring, as well as conduct geotechnical evaluations of the McKenzie County line. It also will have a leak detection system in place and a remote monitoring system.
The company's application alluded to the potential shutdown of the Dakota Access Pipeline, saying the Bridger project "will be a vital part of an alternative route out of North Dakota in the event of a shutdown of the other pipelines leaving the Williston Basin." A judge is expected to rule any day on whether Dakota Access can continue operating during an environmental review. The pipeline has a capacity to transport 570,000 barrels of oil per day and can carry as much as half of North Dakota's oil output to market.
The Bridger project is expected to cost $21 million and will have the capacity to transport up to 50,000 barrels of oil per day.