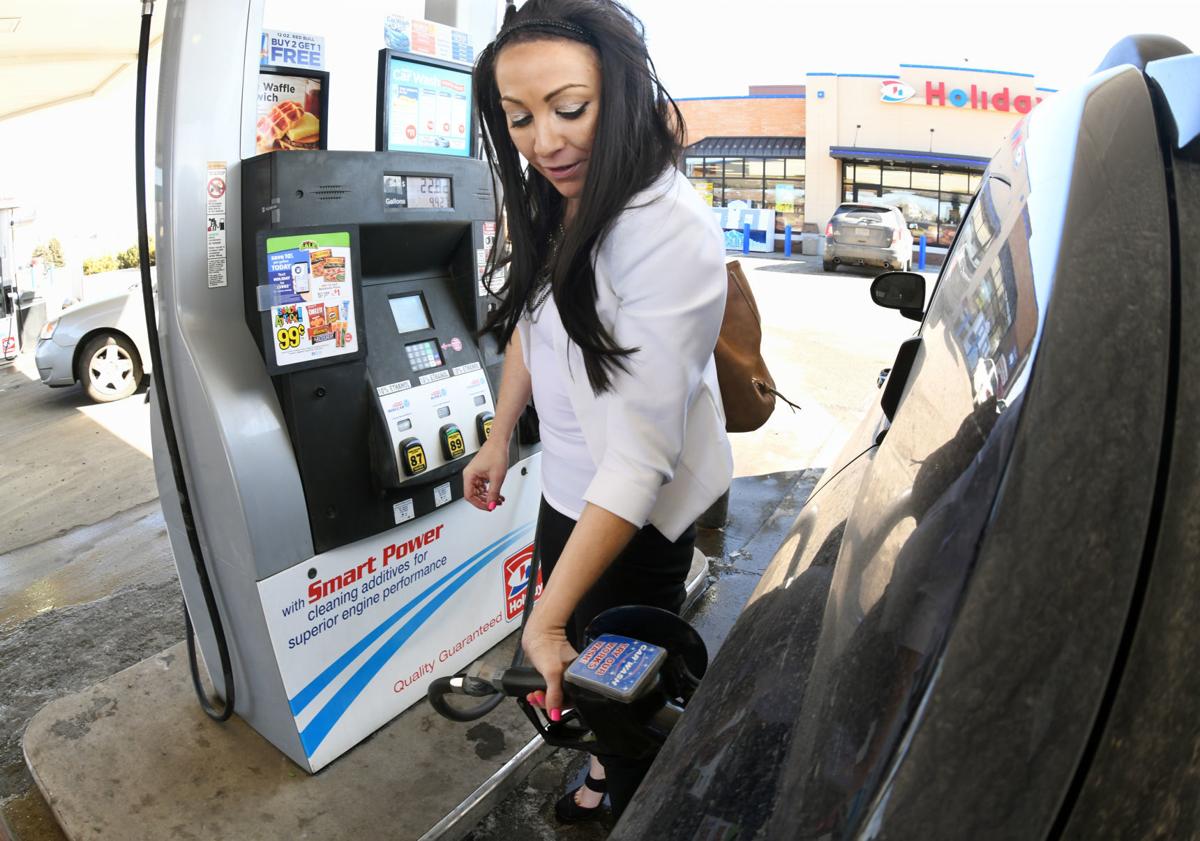 When North Dakota's top oil regulator spoke about the oil price collapse during his monthly update last week, he called it a "black swan event."
The term does not refer to the Swan Lake ballet; rather, it's used to describe something rare and unexpected with major consequences.
For the oil industry, this black swan event is anticipated to result in problems like bankruptcies, particularly for smaller companies that operate lower-producing wells, North Dakota Mineral Resources Director Lynn Helms said.
"We saw that with the last price collapse and we fully anticipate that we will see that now," Helms said, referring to the 2015 downturn when oil prices plummeted over the course of the year.
Drilling in the Bakken slowed then and layoffs occurred as well. There are already signs of both today as oil has plummeted into the $20- to $30-per-barrel range.
The number of rigs drilling for oil in North Dakota dropped by at least five over the course of the past week to 51 on Friday, according to figures from the state Oil and Gas Division. Helms said it's possible low prices could cut the state's rig count in half within the next three months.
"It's not great news at all," he said.
Less drilling -- and an anticipated drop in oil production -- has repercussions for state revenue and for oil workers. Already, three times as many people walked into the Job Service office in Williston last week for unemployment claims compared to the previous week. By the week's end, the building had shut its doors, as have most state facilities under an executive order from the governor aimed at stopping the spread of the new coronavirus.
"We wanted to reach out to you and let you know that we are still here for you, still here to help you, especially during these really difficult times where people are getting laid off in much higher numbers than normal," she said as she directed people to Job Service's online resources and phone lines, which will still be available while the building is closed.
Another sign of what the state will have to deal with came last week when the Oil and Gas Division tallied up the number of inactive wells for January: 2,607. Companies had idled nearly 700 wells since the previous month, a 36% increase in North Dakota's inactive well total.
Winter weather accounts for part of the jump, as it always prompts companies to shut in some wells, but this climb was significant. Oil prices started to fall in January as the demand for crude dropped in China, where the virus outbreak began late last year. Then they collapsed dramatically earlier in March as the alliance between Russia and OPEC to hold back production broke up, prompting a price war.
Meanwhile, a number of countries have enacted travel restrictions to stop the spread of the virus. With fewer flights and people driving, the demand for oil has dropped even more.
Helms anticipates more wells will idle as oil profits decline. The wells companies choose to stop operating tend to be older and produce less oil.
"Inactive wells and abandoned wells are a huge concern long-term for the Industrial Commission," he said.
The commission, chaired by Gov. Doug Burgum, is slated to meet next week and take up the issue. If a well sits inactive for a year, its owner is required to plug it for good. The state recently ramped up regulations on those wells in an effort to prevent companies from shirking their responsibilities to plug and clean up the sites when the wells are done operating.
Helms said the commission might consider granting leniency so a company is not forced to abandon a well prematurely if it still has potential to turn a profit again when prices improve.
It's important that the commission "send a signal to the industry and to the markets that it doesn't make good business sense" to force companies to keep producing oil when it's worth so little, he said.
Bakken braces for layoffs
Last week started out busier than normal in the Williston Job Service office, which helps connect job seekers and employers. Traffic was up 50% compared to the previous week, Hickel said.
Most people filing unemployment claims said they lost jobs due to a slowdown in the oil and gas industry, and many had been told by their employers that they would be called back in to work when or if things picked up, she said. A few others said their employers let them go as businesses limit or stop operations due to the virus.
When Job Service office closed its doors, Hickel, in her Facebook video, tried to offer people in those situations reassurance.
"There are jobs being posted daily despite what's going on between oil prices and COVID-19," she said, referring to the disease caused by the virus. "Please don't lose hope. We're here to give you a boost."
She hopes to reschedule her office's semi-annual job fair when it's safe. The event was slated for next week and expected to draw 600 job seekers.
It's unclear how many layoffs are likely to occur in the Bakken, as that will depend on the duration of low oil prices and the course of the pandemic. The state had 600 unemployment claims on Wednesday, 1,600 claims on Thursday and 2,600 claims on Friday, Burgum said during a Saturday news conference.
Hickel said she's also hearing that some employers are cutting workers' overtime hours.
"The closer in proximity the work is to drilling, the higher the likelihood the companies and their employees are going to be affected sooner rather than later," she said in an interview.
Helms echoed that last week, saying that jobs in drilling, well completions and hydraulic fracturing are most vulnerable to the price collapse. Still, there are some bright spots.
"There are absolutely some sectors like gas processing, saltwater disposal and pipeline construction that are steady or still growing slightly," he said.
But even those parts of the oil and gas industry are on edge. Oneok, which operates a number of gas processing plants in North Dakota, announced earlier this month that it would suspend the planned expansion of its Demicks Lake processing facility and reduce the scope of its Elk Creek natural gas liquids pipeline expansion.
State revenue forecasts halted
The state of North Dakota had anticipated collecting nearly $5 billion from oil tax revenue over the course of the two-year budget cycle to distribute to various state funds and local governments, as well as the Three Affiliated Tribes via a tax-sharing agreement.
Now state officials aren't sure how much money to expect.
The outlook for the oil industry is so uncertain that North Dakota's Office of Management and Budget has suspended its revenue forecasting.
Director Joe Morrissette doesn't know when his office will resume that work. It could be in a few weeks, maybe longer.
"There are so many moving parts that it's hard to have a real productive discussion on it," he said.
The state had based its revenue projections on oil priced around $48 per barrel. The price has been above that for most of the biennium so far, giving the state an additional $77-million revenue cushion over what it anticipated.
But oil sits in the $20 to $30 range today, and production is expected to drop, slightly, in the months ahead. Both of those factors would affect the amount of oil tax revenue the state collects.
"We are watching it constantly," Morrissette said.
North Dakota could also take a sales tax hit as activity slows in the oil fields. Almost half the state's general fund budget comes from sales tax, which is "very correlated to oil activity," Morrissette said.
The government levies the tax on items like drill pipe and sand for hydraulic fracturing, generating about $250,000 in sales tax revenue for every well completed in the Bakken.
On Saturday, Burgum said the state has substantial resources in its budget stabilization fund to help offset a potential revenue shortfall.
Senators step in
Members of North Dakota's congressional delegation are nudging federal and foreign leaders to take actions that would bolster oil prices.
Sen. Kevin Cramer led a call with 10 senators and the Saudi ambassador to the United States last week after OPEC leader Saudi Arabia announced it would ramp up its oil output, a move that would contribute even more to the existing oil glut.
Cramer and others on the call, including Sen. John Hoeven, urged the ambassador to help stabilize global energy markets.
"Saudi Arabia has been a strategic global partner with the United States, and that relationship should mean something," Cramer said in a statement. "We will continue pressuring and advocating for a course correction from the Saudis and every nation actively engaged in harmful market distortions in the midst of a worldwide pandemic. We won't be bullied and we won't be blindsided by friend or foe."
Cramer also wrote a letter to President Donald Trump urging him to embargo oil imports from OPEC and Russia "to avoid substantial domestic layoffs, displacement, and financial impacts."
The two Republican senators also praised a move by the U.S. Department of Energy to purchase up to 30 million barrels of American oil to fill its Strategic Petroleum Reserve. The reserve is a series of underground salt caverns in Louisiana and Texas that store oil for use in emergencies, like when a hurricane temporarily shutters refineries and pipelines.
"Purchasing this oil will not only benefit our energy producers, but also taxpayers and our national security," Hoeven said.
Prices down at the pump
Late last week, gasoline prices, which tend to follow fluctuations in the price of crude oil, had dropped to $1.99 in parts of Bismarck.
That drop coincided with oil prices hitting an 18-year low. When oil hit rock bottom in 2002, gasoline sold for $1.16 in North Dakota, said Gene LaDoucer, AAA's state spokesman.
Today, many people are staying in-town because of the virus, so few consumers are taking advantage of low gas prices to travel.
But many North Dakotans are still making trips to the grocery store and other places for necessities, and that does use up some fuel. The good news for them is that despite restrictions on businesses' operations during the outbreak, gas stations seem to be staying open, LaDoucer said.
"We recommend that when people stop to fill up, that once they're done filling their vehicle, they wash or sanitize their hands because the gas nozzles tend to be very dirty," he said. "I know some stations have hand sanitizer near the pumps, which is a good thing at this time."