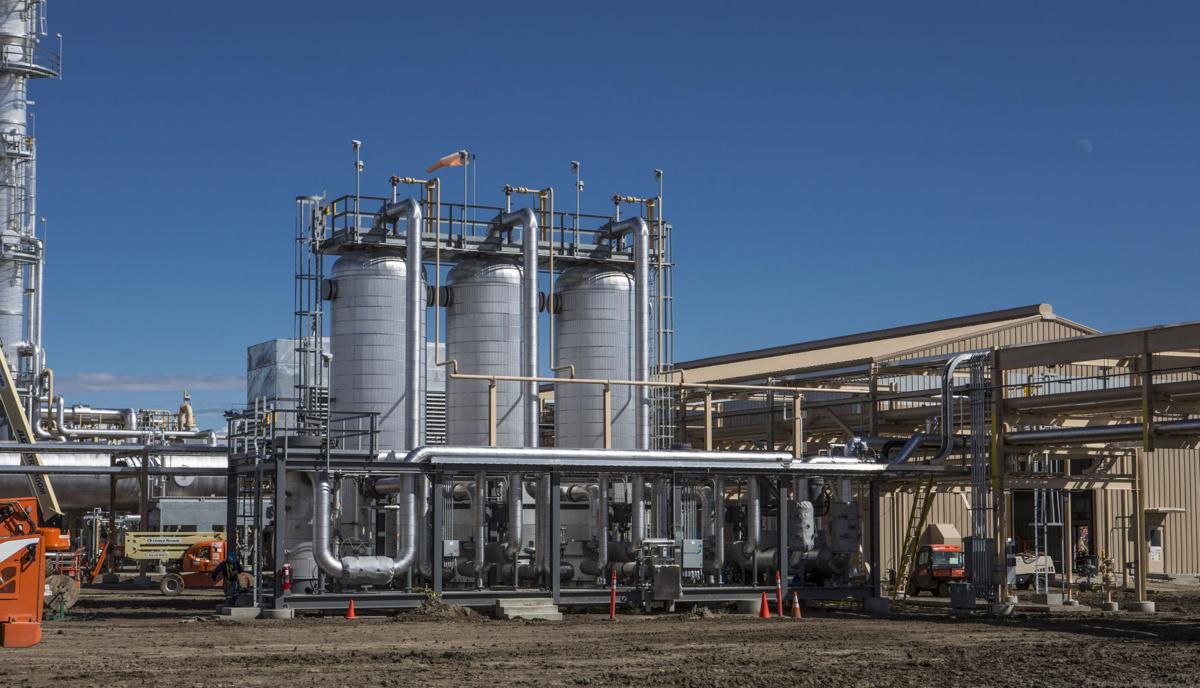 A company that's constructing a new natural gas processing plant in the core of the Bakken announced plans this week for a second plant, doubling the size of the project.
Oneok plans to construct Demicks Lake II in McKenzie County, adding 200 million cubic feet per day of processing capacity.
Demicks Lake I, which also will have a capacity of 200 million cubic feet per day, is under construction but expected to reach capacity soon after it's complete, Terry Spencer, Oneok president and CEO, said in a news release.
That increased the need for the Demicks Lake II plant, a $410 million project.
"Additional natural gas gathering and processing capacity in the Williston Basin is critical to supporting record-setting crude oil and natural gas production in North Dakota and helping producers meet regional natural gas capture targets," Spencer said.
North Dakota produced 2.4 billion cubic feet per day of natural gas in July, exceeding the amount of the state's processing plant capacity.
Demicks Lake II is the eighth expansion or new plant expected to be complete in the next 1.5 years, said Justin Kringstad, director of the North Dakota Pipeline Authority. The combined projects will add about 1.1 billion cubic feet per day of plant capacity and represent a total industry investment of $1.7 billion.
Demicks Lake I is expected to be complete in the fourth quarter of 2019, and Demicks Lake II scheduled to follow in early 2020. The projects, which will be northeast of Watford City, are already permitted by the Public Service Commission.
Kringstad said the new plant will allow the state's processing capacity to catch up through 2021. But with natural gas volumes projected to keep climbing, the state will need additional plants or expansions, Kringstad said.
Oneok also recently expanded the Bear Creek natural gas processing plant in Dunn County to 130 million cubic feet per day. After Demicks Lake II is complete, Oneok will have total gas processing capacity of more than 1.4 billion cubic feet per day in the Williston Basin.
"As the largest independent operator of natural gas gathering and processing facilities in the Williston Basin, Oneok is committed to building critical midstream infrastructure that will reduce flaring of natural gas in the region and meet the needs of producers," said Oneok spokeswoman Stephanie Higgins.
Producers flared 436 million cubic feet of natural gas per day in July, according to the Department of Mineral Resources. The industry missed the North Dakota Industrial Commission gas capture target of 85 percent for the third month in row.
Gov. Doug Burgum, chairman of the Industrial Commission, said during a meeting on Thursday that the state needs to continue encouraging private investment in natural gas infrastructure.
"We can't regulate our way out of this issue. The way you get out of this is through investment," Burgum said. "We have to be attracting substantial amounts of capital."
Meanwhile, construction is underway on Oneok's 900-mile Elk Creek Pipeline, which will transport natural gas liquids from the Bakken to Kansas. About 520 miles are under construction in Kansas, Colorado and southern Wyoming, Higgins said. The remainder of construction is tentatively set to begin next spring. The pipeline originates in Sidney, Mont.