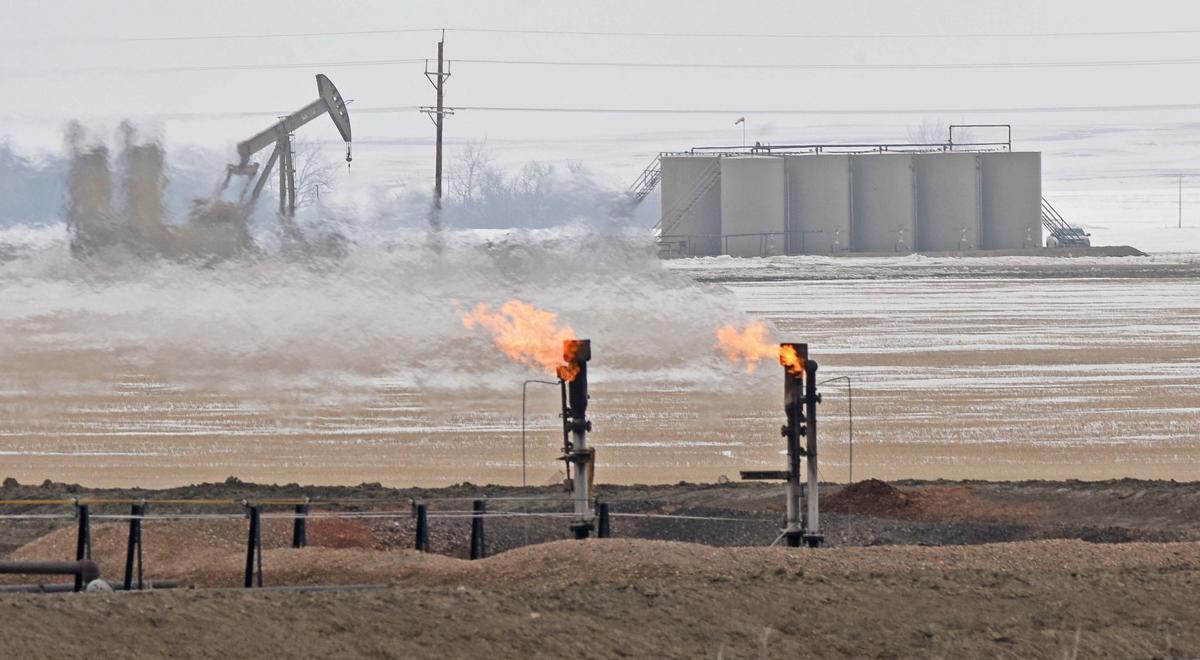 A new proposal to expand another natural gas processing plant in northwest North Dakota aims to keep up with growing volumes of Bakken gas production and reduce flaring.
Kinder Morgan has filed an application to the North Dakota Public Service Commission to expand the Roosevelt Gas Plant in McKenzie County, increasing the capacity to process up to 200 million cubic feet per day.
The project would be the sixth natural gas plant expansion or new plant under development in the state.
The proposal comes as North Dakota oil operators struggle to capture and process natural gas that's produced along with the oil. Companies flared more than 400 million cubic feet per day of natural gas in May, a record for the state, according to the Department of Mineral Resources.
The Kinder Morgan proposal would add 150 million cubic feet per day of processing capacity to the Roosevelt Gas Plant about 7 miles south of Watford City.
Five of the six gas plant projects that are under construction or in development are in McKenzie County, which leads the state in oil production and where wells produce the highest ratio of natural gas.
"Having the plant situated in the hottest area of the play is critically important," said Justin Kringstad, director of the North Dakota Pipeline Authority.
Hiland Partners Holdings, which was acquired by Kinder Morgan, constructed the Roosevelt plant in 2015 and it began operating in 2016. The expansion, which will require approval from the Public Service Commission, is estimated to cost $150 million, according to the company's application. 
Operations could begin as early as November 2019, depending on regulatory approvals. A public hearing has not yet been scheduled.
North Dakota continues to set records for natural gas production, most recently reporting 2.3 billion cubic feet per day produced in May. Volumes are projected to keep climbing and exceed 4 billion cubic feet per day, Kringstad said.
The six gas plant projects that are in development represent a combined investment of nearly $1.3 billion and add 965 million cubic feet per day of processing capacity in the next two years, Kringstad said.
The other projects include Oneok's expansion of the Bear Creek gas plant in Dunn County and the addition of the Oneok Demicks Lake plant northeast of Watford City. In addition, Oasis is expanding the Wild Basin plant in McKenzie County, Arrow Field Services is expanding a plant that will process gas from Fort Berthold and Hess Midstream Partners and Targa Resources Corp. are constructing the Little Missouri Four plant in McKenzie County.
The new plants and expansion projects will help operators catch up with natural gas volumes, but additional plants and pipelines will be needed in the future, Kringstad said.
"When you start looking at the early 2020s and beyond, additional investments will be necessary in processing plants and gathering infrastructure to continue to meet growth expectations," Kringstad said.