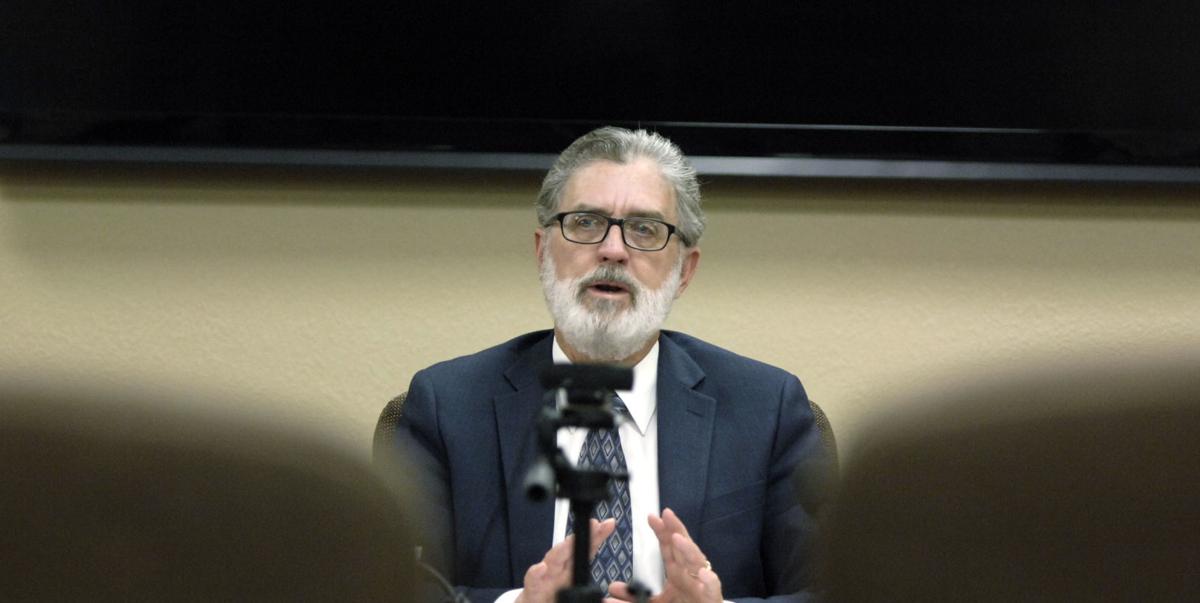 As North Dakota oil operators struggle to meet natural gas flaring targets, a new research project will explore the possibility of temporarily storing gas in underground rock formations.
The North Dakota Industrial Commission approved $140,000 on Friday to evaluate the potential of injecting produced natural gas underground and retrieving it years later when the state has additional infrastructure.
Lynn Helms, director of the Department of Mineral Resources, said temporarily storing the gas underground could be an innovative solution for the Bakken.
"The alternative is more flaring or we really limit oil production growth. And we really don't want to do either one of those," Helms told members of the Industrial Commission. "If we can innovate here, we may have a way to allow oil production growth and not flare gas."
North Dakota produces nearly 1.27 million barrels of oil per day, a new record set in July, according to preliminary figures released Friday.
The state's natural gas production, which increases at a faster rate than oil, hit a record 2.4 billion cubic feet per day that month. North Dakota operators flared 436 million cubic feet per day of natural gas in July, an all-time high. The industry missed the Industrial Commission's gas capture target for the third month in row.
The grant from the state's Oil and Gas Research Program will fund an evaluation at the University of North Dakota's Energy & Environmental Research Center, with a report due by the end of the year.
Scientists will study the potential of injecting produced gas — or gas that has not yet been processed — into subsurface geologic formations and retrieving it years later. Helms estimated the temporary storage timeframe to be two to five years, which would give industry time to catch up on natural gas processing plants and other infrastructure.
You have free articles remaining.
"We don't want to discourage investment in gas gathering, processing and transmission, but, at the same time, we don't want to flare the gas," Helms said.
Researchers will examine the feasibility of injecting gas into the Broom Creek Formation, a porous rock layer the EERC also has been studying as a potential target for carbon dioxide storage. In the Bakken, the formation is approximately 6,500 to 7,500 feet underground.
John Harju, vice president for strategic partnerships at the EERC, said researchers will look at other underground storage targets as well, including depleted oil and gas reservoirs.
The study will examine the technical and economic potential of subsurface storage, as well as any changes to regulations that may be needed.
"We'll get to work on it immediately," Harju said. "There's a lot to do here in a really short period of time."
Meanwhile, the EERC also is partnering with Liberty Resources on field work to study the potential of injecting natural gas underground for enhanced oil recovery.
Most gas that is flared in North Dakota comes from wells that are connected to pipelines, but there is inadequate space on the lines or insufficient processing capacity. Seven new gas plants or expansion projects are under construction or in development, but most won't come online until next year.
While those projects will temporarily help the state catch up, additional gas processing plants will be needed in 2020 and beyond, said Justin Kringstad, director of the North Dakota Pipeline Authority. Natural gas production is projected to exceed 4 billion cubic feet per day.
Helms said a handful of companies are already interested in pursuing a pilot project to temporarily store natural gas.
"Our early work indicates it's super promising," Helms said.