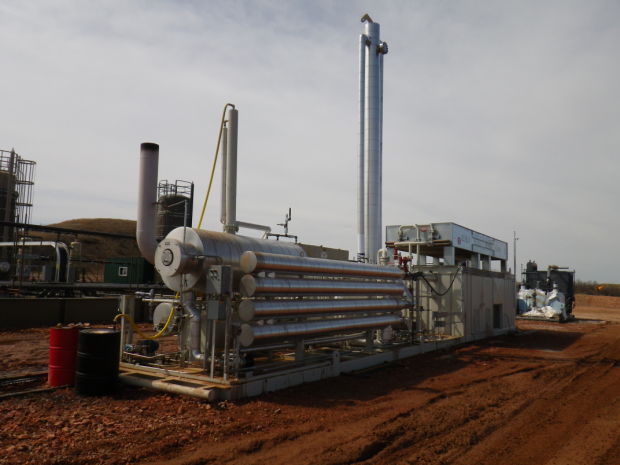 BISMARCK, N.D. _  Mark Peterson is one of several entrepreneurs touting a new technology meant to reduce natural gas flaring and add value to mineral rights owners. However, there's no way for him or mineral owners to know whether proper royalties were paid between the time the units started operating and when the state learned about them.
Natural gas liquid stripping units have been around for decades but have not always been affordable or easy, said Lynn Helms, the North Dakota Department of Mineral Resources director. Peterson wanted to change that.
Now the units are gaining popularity as a way to fix flaring for oil producers in the Bakken with isolated wells who are waiting for a pipeline connection.
As the new technology spreads, regulators have to keep up. There has been a lag between when a technology comes into use and when it becomes regulated — and again when companies that slipped through the cracks become compliant.
Eleven stripping units are now registered with the state, according to Department of Mineral Resources records. Only one is reporting production. Of the other 10, at least three of them have been on well sites since last June.
Because the state did not know about the units, royalties may not have been paid by the oil companies on liquids stripped during that nearly year-long gap, as they should have been.
Before reporting requirements were developed by the Legislature, a June 10, 2012 article in the Billings Gazette said one company had a unit stripping liquids at an oil well within an hour's drive of Watford City.
There's no way to know exactly how much money was lost by mineral owners because of reporting delay. Helms estimated stripped liquids are worth 90 cents to $1 a gallon.
The stripping process works by taking out specific liquids, like butane and propane, from the natural gas to reduce the amount that has to be flared off, Peterson said. Those liquids are stored and sold to gas plants for processing.
It is up to mineral owners to sue when they are not paid royalties. They must rely on state reporting to determine if they are receiving proper royalty payments and without state records, there is no way for them to know if or when there is a stripping unit where they have mineral interests.
"That should have been caught by the field inspector," Helms said. "I really don't know what these units were doing ... So I really can't give you an explanation."
Field inspectors are supposed to be on well sites every 90 days. Helms said inspectors were instructed at a July meeting to look for the units, which would have been in place for about a month by then.
"They (the units) couldn't have been there very long," Helms said. "They were not there long enough to have gotten caught in that field inspection."
Of those stripping units that are registered with the state, the department found out about the units that had been on Hess Corp. sites since June when the company called to inquire about proper reporting. That was in early April, 10 months after the units were put on site and about eight months after official notice of reporting requirements was published.
Hess did not return multiple phone calls made by the Tribune over several weeks.
Two units — one owned by EOG Resources and one owned by QEP Resources — were found during field inspections.
Kodiak Oil & Gas and Whiting Petroleum Corp. were notified of reporting requirements after they expressed interest in units at an Industrial Commission hearing on April 22.
When dealing with new technologies, Helms said, regulations typically start with the Legislature. With new technologies identified, the lawmakers approved tax incentives to encourage use of the technologies and reduce flaring.
Exemptions included sales taxes on equipment, extraction tax on liquids and gross production taxes on gas for two years and 30 days per well.
Helms suggested to the Legislature that oil producers be exempt from paying royalties on the natural gas liquids stripped and sold in a process called "used on lease." Whether a production company pays royalties for used-on-lease gas is based on its private contracts with mineral rights owners, but many don't, Helms said.
Helms said he made the recommendation because oil company attorneys said it was an "enormous impediment" to determine the royalties that would have to be paid to each mineral owner.
One area can have many mineral owners with rights divided among families over decades, Helms said. On average, there are 50 mineral rights owners in one spacing unit, he said.
Legislators disagreed with Helms' recommendation. At that time, Helms' department was tasked to come up with rules and reporting requirements.
An email sent by David Tabor, the department's Production Auditing and Gas Measurement supervisor, to several staff members detailing what was discussed at the July field meeting read "Mobile NGL stripping units that you may have heard of, are considered (used on lease) for royalties, and is that way for 2 years and 1 month, after which they must pay for the NGL's used. This is per the tax department and not the commission."
The exemptions are only supposed to be for taxes, under rules adopted by the Legislature. Helms said the statement in the email was not accurate.
"That's not what was done," he said. "You can see the actual guidance that went out ... and what the production auditing people are actually telling them is different than that."
Oil companies have to report used-on-lease gas, he said, and he is not aware of any reporting of that in the state.
The department has been sending out guidance on how to submit paperwork since July 2013. However, it has been answering questions related to on-site processing as far back as 2011. An official notice of the rule change was sent to newspapers on Aug. 22, 2013.
Under the rule, oil producers have to file forms based on the type of business relationship they have with the provider of the natural gas liquid stripping unit. Any time a company is selling a gas or liquid byproduct for profit, it is required to pay royalties on it.
Helms said any time special equipment is brought onto a well site, oil companies are supposed to file a form with the state. If a company is unaware that it must file, field inspectors will catch it within 90 days, he said. The company then has to determine what form it needs to file based on the stripping process it is using.
"Attorneys don't like that," Helms said of the determination process.
Peterson's company, GTUIT, is the owner of seven units registered with the state. GTUIT does not take ownership of the liquids; it just leases and repairs its equipment.
"Just like the oil, mineral owners are due royalties (on natural gas liquids)," he said. "It's a benefit to royalty owners."
All of the executives of GTUIT are engineers, one a petroleum engineer. Peterson said GTUIT did not want to get into the royalties business, which is why he only leases the equipment.
Peterson said he was never approached by the state about reporting requirements prior to the June 22 hearing. He testified at the hearing about the benefits and ease of use of his product.
GTUIT's units can reduce a well's flaring by up to 50 percent, Peterson said, and he foresees the technology becoming very popular.
GTUIT's 45-to 50-foot-long tanks can hold
18,000 gallons, Peterson said. The Montana-based company is only focusing on the Bakken oil field right now. With 21 more under contract, they are building the units as quickly as possible.
Other companies selling those units include Bismarck-based Bakken Frontier, Recapture Solutions, Torrent Energy Solutions and GOCH4.
Helms said the agency had indications the technology was coming but it was not widely used previously. He said he had experience with the units when he worked for Texaco in the 1980s, "so I'm quite familiar with how they work."
A mobile-stripping technology was reported to and recorded by the state in December 2010. Saddle Butte Pipeline filed a form with the Oil and Gas Division for Schilke Wellhead Process Unit. Saddle Butte's attorney said the units are not in use currently and are being sold off by the company. Helms was unaware of the unit.
Helms said at regulations need to happen when two to three instances of a new technology become known.
"At that point, we need to start imposing consistency," he said.
Helms said he does not know the monetary value of the natural gas liquids stripped or how much it would add to royalty owners' paychecks. The gathering of natural gas liquids is "just barely profitable," he said.
"You would be surprised how low the value on some of these liquids is," he said.