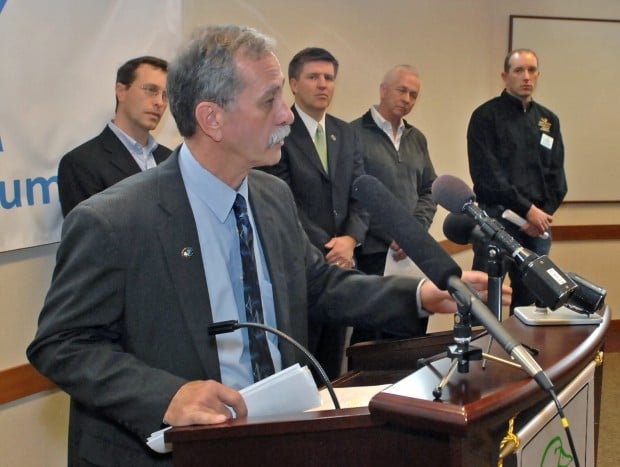 BISMARCK, N.D. - On Tuesday, a consortium of oil companies, wildlife and conservation groups announced the formation of an alliance aimed at working to lessen the impact of energy development on the environment and wildlife.
The Sporting and Oil Industry Forum, as the group is known, has been meeting since March to formulate recommended management practices to minimize the effect on wildlife from oil exploration in western North Dakota, said Terry Fleck, spokesman for the group.
Fleck said the forum has teamed with groups like the Mule Deer Foundation, Delta Waterfowl, Whiting Oil and Gas, the North Dakota Petroleum Council and the North Dakota Game and Fish Department in establishing the recommendations.
Fleck said three previous meeting have been a starting point to open discussions.
Two species of immediate concern, mule deer and pronghorn antelope, have been in decline in recent years.
That decline has more to do with their populations trying to bounce back after three harsh winters that has led to declines in production, according to Ryan Krapp of the North Dakota Mule Deer Foundation.
Terry Steinwand, director of the Game and Fish Department, said a five-year study will begin in January to examine the effect oil exploration has on mule deer in the western part of the state.
Steinwand said aside from mulies and pronghorns, other species like bighorn sheep, elk and sage grouse are of concern.
While the management recommendations are just that, recommendations, discussing the issues among the various players including landowners is a jumping off point.
"This is just the start of the process in our estimation," Steinwand said. "There are workable solutions."
Blaine Hoffman of Whiting said his company has introduced a landowner incentive program, a pilot program for the company to lease land adjacent to drilling sites.
He said it's hoped saving or re-establishing native species of grasses and shrubs in those areas will lessen the disturbance.
"Most landowners are conscious of habitat on their land and want to enhance wildlife," Whiting said. "We want to inform landowners that these tools are now available."
Krapp, said maybe the biggest issue facing mule deer is the fragmentation of their home range, which is basically limited to the Badlands.
The bulk of the state's mulie population is in the Badlands, but he said they do overlap into other parts of the state.
He said roadkill from truck and other traffic is a major issue. One of the recommendations is to site wells and roads away from known travel corridors for animals like elk, mule deer and bighorn sheep.
Pipelines would ease the traffic load and Steinwand said one thing that is being looked at for N.D. Highway 85 is in place in Colorado: elevated crossings or bridges for elk and sheep and other animals.
"They're expensive though," he said.
Ron Ness of the petroleum council said improvements in drilling technology, such as horizontal drilling, has reduced the number of wells and pads on the ground.
Ness said 90 percent of the drilling in the West happens on private land. "If you do it right up front, you reduce the footprint."
Fleck said one of the major challenges early on will be to get everyone — oil companies, conservation groups, Game and Fish and landowners — on the same page and talking.
He said he suspects there will a lot of discussion in the upcoming legislative session on how best to manage the situation for all parties involved.
Fleck admitted there have been some "contentious times" in early discussions.
"As energy development continues to grow," Fleck said, "so too is the discussion surrounding wildlife and habitat."
Fleck said those discussions need to take place. "There has been a lot of open and honest dialogue ... and that will help get us where we need to be."
Hoffman said as far as the oil industry in other states is concerned, there is a great deal of interest to see how things shake out in western North Dakota.
"We will make this work," Hoffman said.