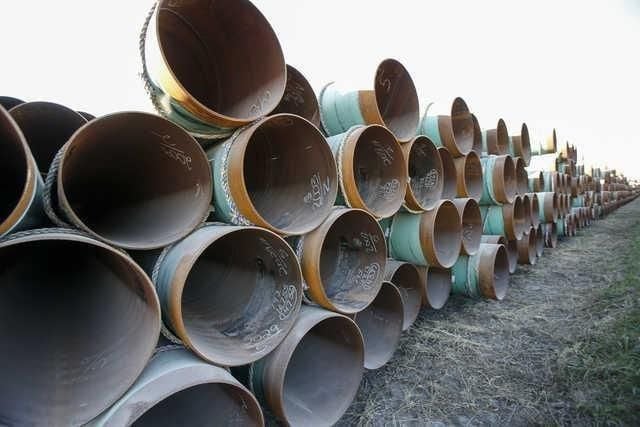 WILLISTON -- The buildout of a pipeline system that likely spells the end of the truck and train boom in the Bakken is continuing.
The latest in the series involves a short segment of 12-inch pipeline that travels a mere 1.1 miles, but could have a major impact on Bakken crude. The line is being built by the Hess Corp.; and while short, it connects to something long indeed: the Dakota Access pipeline, which travels 1,172 miles to Patoka, Ill. Its maximum overall capacity is listed online as up to 570,000 barrels a day.
That line, which is being built by Energy Transfer Partners, can ultimately tie North Dakota's sweet Bakken crude — naturally low in sulfur —  to other markets, including Texas, where ExxonMobil announced on Tuesday that it is expanding its ultra-low-sulfur fuel production at the Beaumont Refinery by 40,000 barrels a day.
The capacity of the Hess pipeline segment is listed as a maximum of 70,000 barrels, but is estimated to have a more normal throughput of 50,000 barrels a day.
The cost of the Hess midstream project is $4.5 million. A request for a building permit filed on behalf of Energy Transfer Partners with Williams County lists a Ramberg Truck Terminal project as $2.6 million. The application lists a pump house and a main meter as parts of the project.
The Hess connecting pipeline is to originate at the existing Ramberg Truck Facility, and extend to a new Energy Transfer Partners facility, which will be located 7 miles south of Tioga.
A representative with Dakota Access confirmed the Hess pipeline will tie directly into the Dakota Access project.
At the hearing in Tioga on Tuesday, company officials talked about the extra measures they will take for this short segment of pipeline, which will pass by a wetland on its way to Dakota Access. The area is also in the vicinity of the whooping crane's fall migration pathway.
Since construction is scheduled for the fall, they will be monitoring for the whooping crane, and if one is sighted within a half mile of the project, use of heavy equipment will be halted while it is within that range.
They will minimize water body crossings and avoid all wetland crossings entirely, according to documents filed with the PSC. A Hess representative did not immediately respond to a request for further clarification on the measures being taken for the wetlands safety.
The hearing was mainly attended by people with Hess, but Evan Whiteford, a marketing representative with the Laborers' International Union of North America, did speak.
"I've been a pipeliner for nine years and worked all over the country," he said. "I have come to give my highest regards to Hess. When it comes down to a company like Hess, they spare no expense on safety. It is top-notch."
Whiteford said his organization supports the project and hopes to see it go through.
"This is going to produce some jobs," he said. "Not a whole lot, it's not a big project, but some. For the people living and working in the area, we need to see them moving forward."
Hess representative Stacy Thedford was asked to clarify how many jobs would be created.
"This tie-in is part of our normal/base business, so we expect minimal impact," she said in an emailed response.
Thedford was also asked if the project represented any expansion in volumes being refined or gathered.
"This project supports our long-term growth goals and market flexibility," she said.
The Ramberg truck facility is located in an area that has been the scene of high truck traffic and use by multiple oil companies. County officials estimated 700 trucks were using County Road 21. Williams County closed the road to truck traffic because it had become too damaged to be safely used.
That brought Hess' North Dakota general manager, Stephen McNally, to a county meeting in April to discuss a fix for the road, even if it was only temporary, as the company was nearing a critical point for a pipeline project it estimated would take 100 of its 300 trucks off that road.
The county agreed to patch the road, and Hess helped with some of the expense, to keep the facility operational.