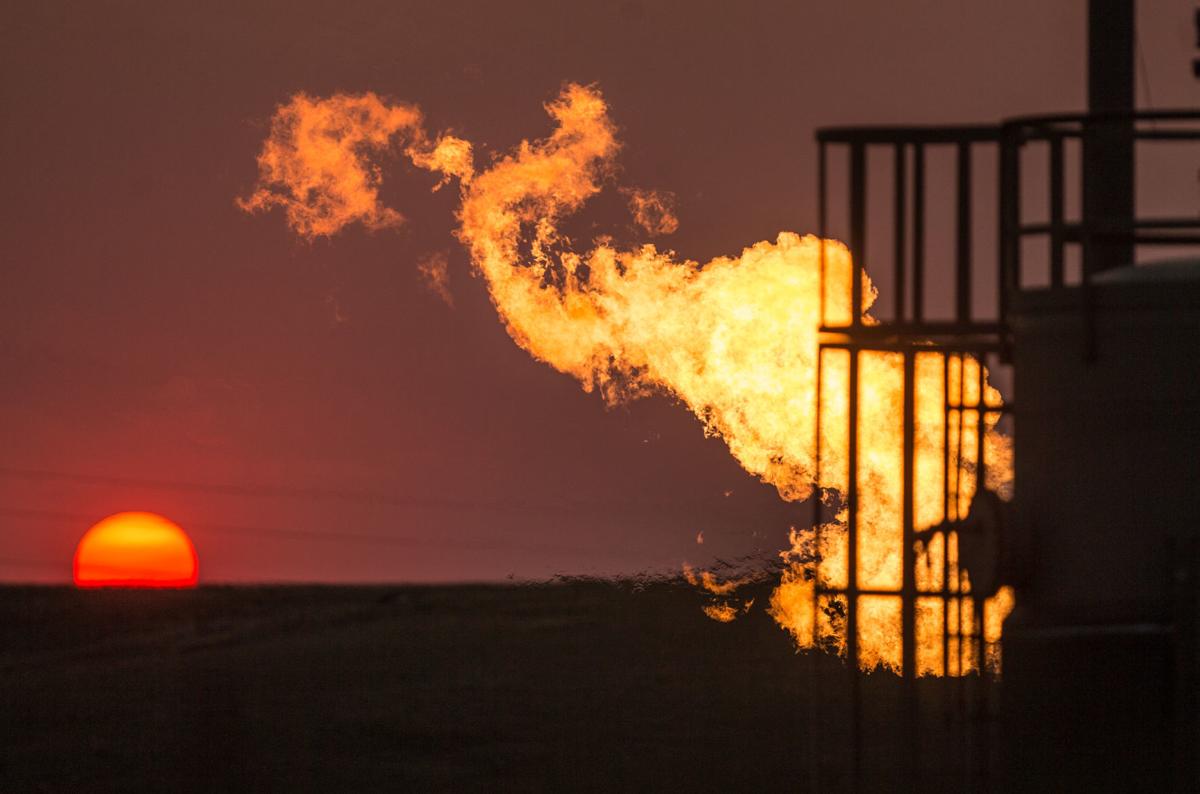 Shutdowns of several natural gas processing facilities and pipelines resulted in record natural gas flaring early this summer, North Dakota's Oil and Gas Division reported Thursday.
The latest numbers available from the state show that flaring during June jumped 155 million cubic feet per day, to 687 million cubic feet per day. In June, 24% of the natural gas produced in North Dakota was burned off at well sites, well above the state's 12% target.
"We really fell out of bed in terms of flaring," Director of Mineral Resources Lynn Helms said during his monthly press briefing on oil and gas production.
North Dakota's oil and gas industry has struggled for months with flaring due to climbing oil production combined with a lack of pipeline and processing capacity for gas. North Dakota set an oil production record in June at 1.42 million barrels per day.
Helms said he expects July flaring numbers could still be high, but they could improve in August and later in the year as more pipelines and processing plants come online.
One significant outage occurred in mid-June on the Alliance Pipeline, which carries gas from Canada and North Dakota to Chicago. The line was scheduled to be shut down for four days to make repairs in Iowa and Illinois, but it ended up staying offline for seven days due to unanticipated weather and working conditions, according to notices the company sent to shippers.
Helms said Alliance carries a lot of gas in the eastern part of the Bakken from the Tioga area and Fort Berthold Indian Reservation, and its outage is partly to blame for high flaring numbers there. Thirty-seven percent of gas produced on Fort Berthold was flared in June.
Helms said Oasis's Wild Basin Gas Plant was shut down from mid-June to early July, and Kinder Morgan's Watford City gas plant also was out for more than a week for planned repairs. Another Kinder Morgan facility, its Badlands plant in Bowman County, shut down for good amid low production in the area, Helms said.
Thirteen operators could face production restrictions as a result of high flaring during June, Helms said. But, he added, they will likely receive variances from the Oil and Gas Division due to the pipeline and processing plant outages. State policy allows such variances when unavoidable circumstances arise.
Helms said drawing the petrochemical industry to North Dakota presents an opportunity to put the state's natural gas to use and help reduce flaring. The Legislature earlier this year approved tax incentives to help build up the industry, which would use natural gas liquids such as ethane to produce products like plastic pellets.
Helms recently visited petrochemical facilities in Alberta with other state officials, and he said Thursday that at least three petrochemical processors in the province have expressed interest in doing business in North Dakota.
Be the first to know
Get local news delivered to your inbox!