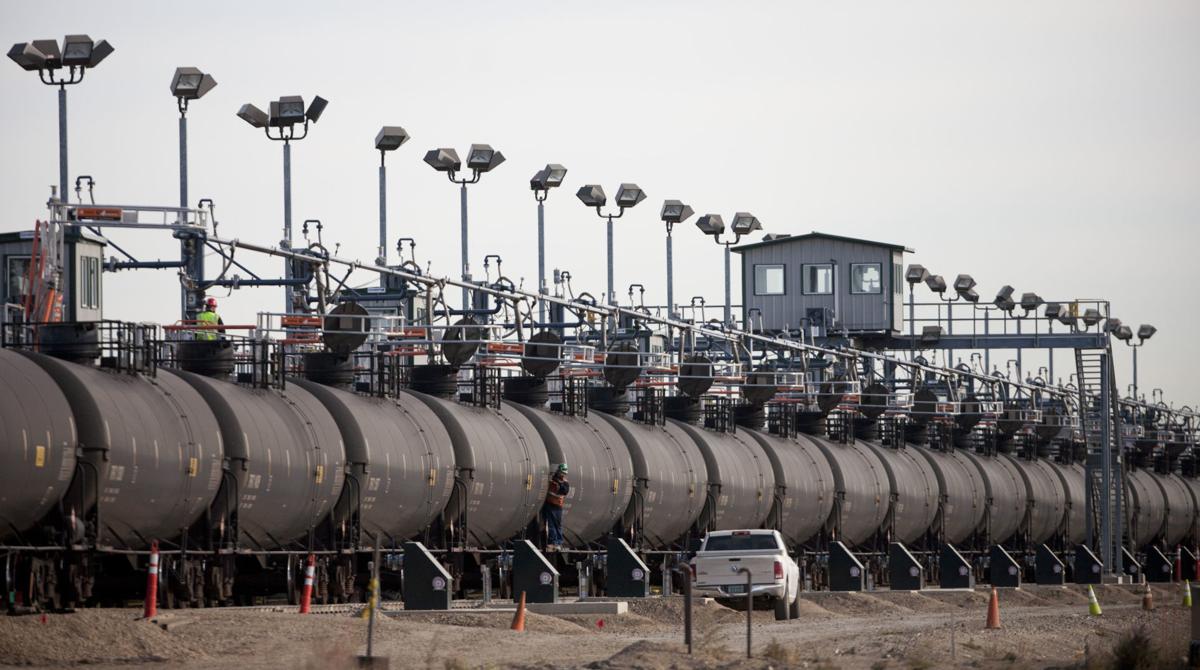 A federal agency has sided with North Dakota and Montana in a dispute over a new Washington state law that places restrictions on shipments of oil by rail in an attempt to boost safety.
The U.S. Pipeline and Hazardous Materials Safety Administration issued the decision Monday, nearly 10 months after North Dakota and Montana petitioned the agency to overturn the law, arguing that it amounted to a "de facto ban on Bakken crude."
The Washington Legislature passed a bill last spring requiring that oil unloaded from trains have a vapor pressure under 9 pounds per square inch. The limit falls below North Dakota's cap, 13.7 psi, which is based on an industry standard.
PHMSA Chief Counsel Paul Roberti wrote in the decision that federal law and regulation surrounding the transportation of hazardous materials "preempts" the vapor pressure limit that Washington set.
He said Washington's limit, if it were to stand, "would set an alarming precedent."
"Other State and local jurisdictions would be encouraged to enact their own vapor pressure limits for crude oil," he said. "The resultant multiple and conflicting requirements will undermine the uniform Federal regulatory scheme."
Roberti said the Washington law creates a new class of crude oil that differs from federal regulation and establishes different rules for handling oil. He added that Washington's new requirement "is an obstacle to accomplishing and carrying out" federal law.
North Dakota Attorney General Wayne Stenehjem said in a statement that he was "pleased" with the PHMSA decision.
"An independent study of Bakken crude oil determined that vapor pressure is not a statistically significant factor in improving rail transportation safety," he said. "The study's results did not support a need for creating a distinction for crude oils based on vapor pressure."
The study he referenced was completed by Sandia National Laboratories last summer. It concluded that "vapor pressure is not a statistically significant factor" in determining the fiery characteristics of oil train crashes.
Supporters of Washington's law argued that it would help reduce the risk posed by the volatility of Bakken oil as trains criss-cross the continent carrying it from North Dakota to refineries. Oil trains have come under scrutiny in recent years following derailments, including a crash in 2013 that resulted in an explosion and killed 47 people in Quebec.
A spokeswoman for Washington Gov. Jay Inslee told The Associated Press state officials were disappointed with the decision.
"Washington's law helps protect the public from the inherent risks of transporting oil by rail by decreasing explosion risk in the event of an oil train derailment," Tara Lee said. "Public health remains our top priority and we are considering our options."
North Dakota's congressional delegation, including Sens. Kevin Cramer and John Hoeven, as well as Rep. Kelly Armstrong, all Republicans, issued a joint statement thanking the Trump administration "for doing the right thing by putting sound, scientific evidence above partisan politics."
Gov. Doug Burgum in a statement thanked PHMSA for "basing this decision on sound science and preserving our state's constitutionally protected right to interstate commerce."
"Washington state's law was based on an unsupported, erroneous assumption that Bakken crude oil poses a higher transport risk than other crude oils, when in fact it is shipped in a manner that's even safer than what federal standards require," he said.
Reducing oil's vapor pressure involves a process known as "oil conditioning," in which oil is heated -- often at the well pad -- to remove certain amounts of propane and butane before it's shipped by train. Reducing Bakken crude's vapor pressure to 9 psi would involve a more complicated and expensive process to remove even more components, North Dakota and Montana argued in their petition to PHMSA.
PHMSA did not issue a decision on a separate aspect of the states' petition seeking to overturn a requirement that refineries receiving oil must provide advance notice to the state with information such as the route a train will take to the facility, the vapor pressure and the volume of oil. Roberti wrote that the administrative record "is insufficient" to make a determination on that part of the petition.
Washington or another entity could seek to overturn the decision PHMSA issued Monday, either by asking the agency to reconsider or by filing an appeal in federal court.
Be the first to know
Get local news delivered to your inbox!