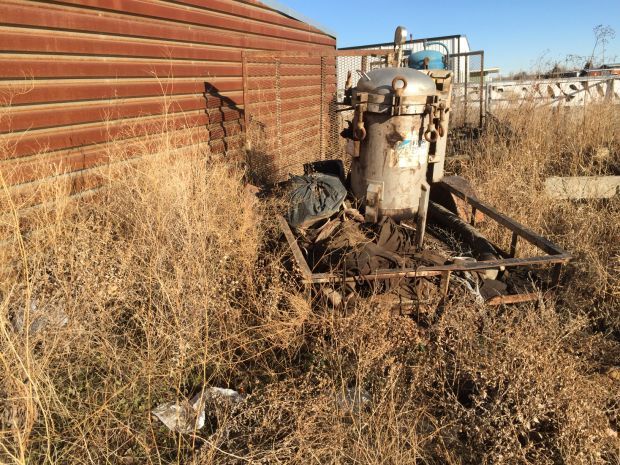 State regulators announced Thursday that they confirmed the first reported illegal dumping of radioactive filter socks since new requirements for having disposal containers at well sites last year were enacted.
The North Dakota Department of Mineral Resources Oil and Gas Division announced that, on Monday, its Williston office received a call reporting a possible dumping of filter socks at a business at the north end of town.
Oil and Gas Division spokesman Alison Ritter said the department responded by inspecting a business location being rented by Green Diamond Environmental Trucking Services LLC. Approximately 100 filter socks were found inside garbage bags sitting on equipment at the company's site.
Filter socks are used to filter toxic saltwater and water used for hydraulic fracturing at well sites. Over time, they can accumulate radioactive particles.
"It looks like due to the growth around (them) that they've been there for a year," said Ritter, adding the incident was still under investigation and the department is still trying to determine whether or not Green Diamond had dumped the socks or if they were placed there by another company.
The company has been cooperative with regulators so far as well as with the cost of the socks' disposal, according to Ritter.
"They agreed to pay for the cost of it," Ritter said.
The Oil and Gas Division began requiring covered leak-proof labeled containers at the well site in June. Last spring in Noonan, a large quantity of filter socks was discovered illegally dumped in numerous bags inside an abandoned gas station, prompting the new regulations.
Calls to a number listed for Green Diamond were unsuccessful Thursday because the number was suspended. An email to the company Thursday for comment received no response.
Scott Radig, the waste division manager of the North Dakota Department of Health, said disposal of the filter socks will begin Friday and cleanup should take a few days.
"It's not a huge number," said Radig, adding the filter socks found in Williston are far fewer than what were found in Noonan.
Green Diamond has contracted a company licensed to transport and dispose of filter socks called Absorbent and Safety Solutions LLC to take care of the waste. The cost of the contract was unknown Thursday.
Radig said the socks would need to be transported to a special landfill out of state due to state regulations on technologically enhanced naturally occurring radioactive material, or TENORM.
Material and equipment containing less than 5 picocuries of total radium per gram of material can be released or used without restriction. If material or equipment has more they must be disposed of as TENORM. The Health Department is considering rules that would increase the limit to 50 picocuries.