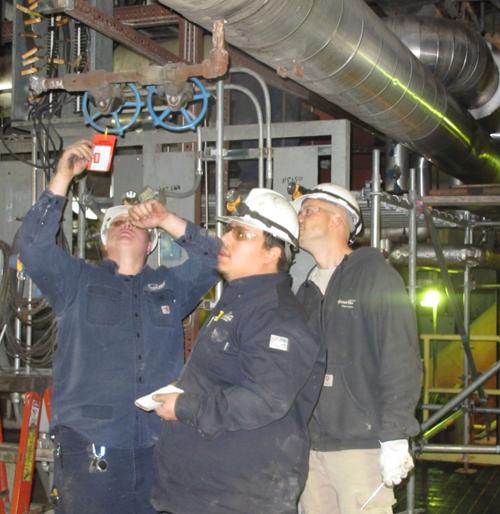 COYOTE STATION — The employees at the Coyote Station south of Beulah will be tired come Christmas, but they will have a bit of extra jingle in their pockets.
The crew there has been putting in long hours and overtime, working alongside specialized contractors, to bring the 427-megawatt coal-fired power plant back on line after a fire Dec. 4.
Plant manager Brad Zimmerman said, if all goes as planned, the plant, one of six legacy power plants in Coal Country, will be running at half capacity within two weeks, in time for the holidays.
The early-morning fire started in one of two critical feeder pumps that connect the boiler to the generating turbine.
The cause is still under investigation for insurance purposes, and Zimmerman said it's generally attributed to a mechanical failure that sparked an oil and pressurized steam fire.
Most of the damage is contained to a far corner of the turbine house, but boarded windows and damage to the 90-foot ceiling are evidence of the blaze' power.
"It had to be a really big, an astounding, event," Zimmerman said.
No employees were injured, partly because only operators were in the plant at 5 a.m., and the main turbine unit is unharmed. Local fire crews and a team from Dakota Gasification Co. were on scene for the entire day of the fire.
The Coyote Station, in operation since 1981, is a landmark plant located a few miles southwest of Beulah adjacent to the Dakota Westmoreland coal mine. None of the 81 employees have been laid off and, in fact, are working longer hours for the duration, he said.
Zimmerman says the plant employees stayed cool under pressure and took steps to protect equipment during the fire and continue to be on the front lines in assessing repairs and making fixes to get the plant operational again.
"We're in uncharted territory. There's no recipe book for figuring this out," Zimmerman said. "It's just dig in and plow ahead."
Zimmerman said he expects it will be months before the plant, owned by a consortium of utility companies and operated by Otter Tail Power of Minnesota, can run at full capacity.