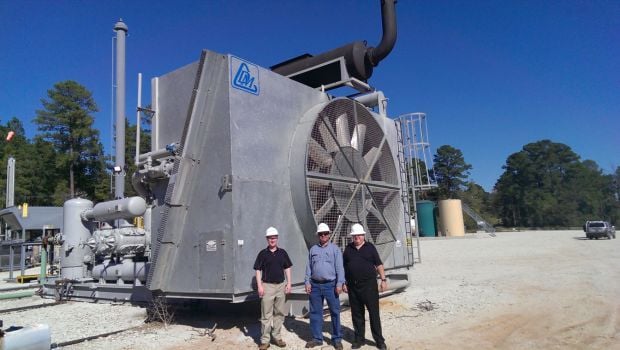 BISMARCK, N.D. — Three natural gas-related companies want to know how many operators using diesel fuel in the Bakken would convert to natural gas.
Companies have struggled with what should come to the area first, natural gas vehicles or fueling infrastructure. GoCH4 and partners MicroLNG and AmeriFlare, wants to take the first step by providing the equipment to fuel the vehicles if there are enough companies ready to make the switch.
The three companies issued a call for submissions for the purchase of compressed natural gas or liquefied natural gas to determine if the market exists to support the investment.
"We have reached the tipping point where the benefits of natural gas as a fuel far exceed the investment required to use it," said Wes Livingston, vice president of project development for GoCH4.
Compressed natural gas or liquefied natural gas cost about half the price of diesel while burning cleaner. Prices of compressed natural gas and liquefied natural gas produced by GoCH4 are expected to cost $1.90 to $2.50 per diesel gallon equivalent.
Bob Moffitt of the North Dakota Clean Cities Coalition, a group supporting the use of natural gas vehicles in the state, said the oil boom has brought many companies to the state, some startups and others are more established.
"What will pan out remains to be seen," he said.
Moffitt was unaware of GoCH4's call for submissions and had no knowledge of the three companies involved. He said interest in natural gas vehicles has continued to grow with more companies and organizations wanting to join the clean cities coalition all the time.
Texas and Oklahoma have a maturing market for natural gas vehicles, Moffitt said.
"It's really taking off in those areas and that bodes well for North Dakota," he said. "Things will happen very quickly once we reach that tipping point."
Submissions to GoCH4 and its partners are non-binding and are due by Dec. 31. If enough companies are interested, the partners will negotiate fuel supply contracts with the respondents.
Livingston said the partners are reaching out to pipeline operators about supplying natural gas.
To make the project work, Livingston said, GoCH4 will need a total commitment to 5,000 diesel gallon equivalent per day of compressed natural gas or 6,000 to 7,000 diesel gallon equivalent per day of liquefied natural gas.
GoCH4 has three proposed methods of delivering compressed and liquefied natural gas to end users: tube trailers hauled by natural gas-fueled trucks could deliver compressed gas from sites along a pipeline, natural gas could be compressed on site from a wellhead, or infrastructure to transport liquefied natural gas could be developed.
Joey Roberson-Kitzman of North Dakota Clean Cities said there aren't any other companies in the coalition that do exactly what GoCH4 is suggesting. He said Blaise Energy in Bismarck is somewhat similar.
Blaise powers well sites with generators made to burn natural gas rather than diesel. Roberson-Kitzman said the company also is exploring how it might be able to apply the technology to vehicles.
Under GoCH4's plan, liquefied natural gas infrastructure would take about a year and a half while compressed natural gas equipment could be ready in four months," Livingston said.
"The logistics of delivering CNG or LNG to drilling and pumping rigs must be evaluated for each customer," Livingston said.
Livingston said the technology is in use in Canada and a trial was done in Texas in September. North Dakota would be the first place GoCH4 has attempted to use it.
Livingston said the lowest cost method will depend on daily demand fluctuation, distance from source and the availability of stranded wellhead gas that is being flared.
Modifying the large diesel engines that run the rigs to accept natural gas will cost $200,000 to $300,000 each. Truck fleet conversions cost about $30,000 per truck.
"Those investments will be recovered quickly," Livingston said. "We expect returns of one to two years."
Livingston expects dual fueled engines will be the trend to start because they cost less and can operate on all diesel if natural gas is not available. Typical engines can replace 50 percent to 70 percent of the diesel fuel used with natural gas
Based on conversations with conversion companies, Livingston said, the vehicles will keep the same horsepower with no power de-rating.
Mark Hanson of MDU Resources said MDU had natural gas vehicles at one time but has since phased them out of its fleet. He said the company continues to monitor the potential use of the vehicles but for now, it does not drive enough miles to make the switch feasible.
Moffitt said certain credits or incentives from the state may be what it takes to make the switch more appealing to companies.
Many are worried about the fluctuation of natural gas prices. But Moffitt said since the spread of hydraulic fracturing, the price of natural gas has been less closely tied to that of oil, making its price less volatile than in the past.