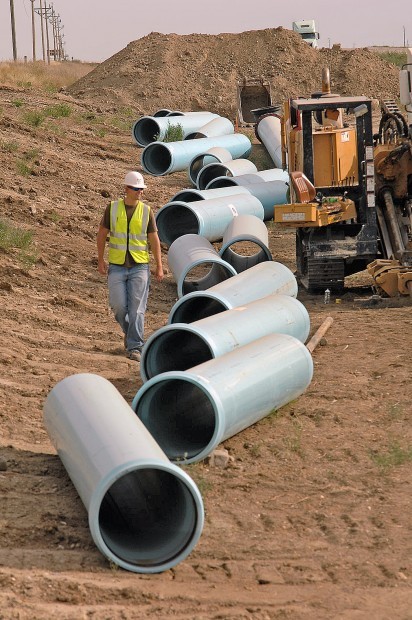 Have you ever heard the saying "water, water everywhere so let's all have a drink?" My guess is that cliché was put on the shelf the minute our ancestors discovered the salty taste of the big blue ocean. Since observing the combination of water and fire, our species has yet to figure out an economical, efficient method to convert Mother Earth's 326 million trillion gallons water into something fresh or potable. Only about half a percent is drinkable and 98 percent is oceanic salt water. The other 1.5 percent is in the icebox, so-to-speak, preserved in icecaps and glaciers.
The ancient Greeks were able to come up with some pretty creative and clever ways to desalinate salt water with boiling, straining methods using sand and gravel filtration, but in reality, transitioning the primitive technologies to mass scale accommodations for cities, municipalities and states has always fallen short to the easy option of tapping fresh local supplies.
The bigger picture in water technologies has resurfaced over the past five years, largely due to the modern day shale plays. These shale plays, like the Bakken, have taken enormous volumes of water due to the hydraulic fracturing process, estimated at about two million gallons per well.
According to the North Dakota State Water Commission, surface water is the preferred source, however, both surface water and groundwater sources have been used for oil and gas extraction. Where groundwater has been used, it has generally come from freshwater aquifers within two thousand feet of the surface, and is managed by the Appropriations Division of the Office of the State Engineer.
In the February 2012 report from the North Dakota State Water Commission, records indicate that 12,629 acre-feet of surface and groundwater were used for fracking purposes. That amounts to roughly 4 percent of North Dakota's 2012 consumptive water use. Those numbers are expected to rise over the next 10-20 years with the anticipation of adding 40,000-45,000 wells, according to the Department of Mineral Resources.
According to a FracFocus February 2014 Ceres Guidance Report, data show that nearly 98 billion gallons of water were used in hydraulic fracturing processes for about 40,000 wells from January 2011 through May 2013. Additionally the top five U.S. shale energy regions - Eagle Ford, Marcellus, Permian, Barnett and Haynesville- account for over 70 percent of total national water used in hydraulic fracturing. The Permian, Eagle Ford and DJ Basins have anywhere from one-third to nearly 100 percent of their wells in areas with high or extremely high water stress. By contrast, although the Bakken is a very arid and agriculture intense, it is not densely populated, so water stress is not as high as in other shale plays.
According to the 2013 Western Organization of Resource Councils report, "Gone for good: Fracking and water loss in the West," Wyoming, Colorado, Montana, and North Dakota accounted for 7 billion gallons of water a year in fracking operations.
Lynn Helms, director, North Dakota Department of Mineral Resources, said North Dakota's water output is currently exceeding crude oil.
"One of the main issues we are dealing with at the state level is waste management and minimization," Helms said. "Produced and flowback water is 1.4 barrels for every barrel of oil we produce. Imagine that, we are at 1.1 million barrels of oil, so that means we are at about 1.6 million barrels of water everyday."
Helms said industry is literally throwing that water away and his department is in the process of working with environmental groups, the Energy & Environmental Research Center (EERC), industry and regulators on plans to recycle that flowback water into frac water.
"We are blessed with an enormous sponge about a mile below our feet called with Dakota Formation and it has the capacity to absorb all that," Helms said. "But we are literally just throwing all that water away at this point in time."
Helms said there are some legislative issues with the definition of wastewater and believes the law makers should consider redefining the scope of the term.
"We need to change that definition from it being a waste, once it is recycled it has to become a recycled product," Helms said. "That's going to take some legal changes and some rule changes."
Flowback water from the Bakken are high in salt content, making recycling difficult. Additionally, the salt can cause issues in the pipes, requiring daily freshwater flushes into the well to maintain oil flows over the entire production cycle, which can be as long as 30 years.
Many of the water issues are not new to the industry, but the science, technologies and chemistry advancements are. As hydraulic fracturing continues and rules and regulations are tweaked, conservation practices, regulators and industry cultures appear to be virtually coming to a head.
Dr. John Huntington, chemistry consultant and expert in fuels forensics, Gateway Enterprises Integrated Chemistry, has been working with chemistry, hydrocarbons and water within the oil and gas industry for over 30 years. When asked whether the ultimate goal of water reclamation has or can be achieved, Huntington sees progress and potential, but believes it will take a collaborative network to satisfy the overall water complexity.
"Water reclamation is pretty hard. There is some nice technologies that let you reuse it, but as far as reclaiming it and putting it back in the rivers and the surface water of the country, that's very difficult to do because it usually turns into high salinity water," Huntington said. "It's hard to take that salinity out."
Huntington said understanding the baseline chemistry is paramount when discussing water issues and needs. He added establishing a baseline allows you to understand the levels of hydrocarbons, iron, magnesium, calcium and toxic metals in your groundwater. Without this precedent, the drillers will often be the first ones blamed because they are the ones in the hydrocarbon business.
"Now, maybe the drillers did it, maybe the drillers didn't, but they are working with a lot of hydrocarbons, so that's a logical direction to point your finger. If you have the background test, at least it gives you a logical place to start." Huntington said. "One of the big problems is there hasn't been enough done throughout the drilling history to establish a baseline history. Watching it over time allows you to understand all the impacts that can occur."
Huntington said in his experience he has seen "indirect impacts" occur, leaving landowners, government officials and energy companies in an interesting situation.
"You can have indirect impacts. You can have a contaminant go up - not because the oil company is putting it into the ground, but because something else they did has changed the water chemistry so you get from oxidizing to reducing conditions and that element is then released from the formation. So you have those problems to worry about and I have seen evidence of that happening on a number of occasions."
Huntington said the majority of the drilling activity is done safely without any groundwater problems and when an issue arises it is important to act quickly to find out what's causing the issues before it spreads.
Diving deeper into the long term water outlook in the Bakken, Nuverra Environmental Solutions Inc., recently signed an agreement with XTO Energy Inc., a subsidiary of Exxon Mobil Corp., to build a 150-mile pipeline network in McKenzie County, N.D.
According to an email press release from Nuverra, the pipeline network will feature fixed, buried pipelines for produced water gathering and fresh water delivery. The pipeline network is projected to cost $125 million to $150 million, based on current engineering and construction specifications, with a start date of May 2015 and completion at the end of the year.
"The construction of this pipeline represents a transformational step in our effort to become a fully-integrated environmental solutions provider in North Dakota," Mark Johnsrud, chairman and CEO, said. "With significant increases in well density and growing water volumes, we believe our pipeline network represents an important complement to our transportation capabilities and provides sustainable and efficient water gathering and delivery solutions for our customers."
Nuverra currently has operations in ten U.S. shale plays to help transport, treat, recycle and dispose of fluids and solids generated from energy development. Nuverra has also invested into wastewater recycling and has began working in conjunction with Halliburton.
Another company looking to get into the Bakken water game is Tulsa-based NGL Energy Partners LP (NGL Water Solutions). They recently acquired saltwater disposal facilities from WaterWorks Corral Creek LLC and Saltwater Disposal Systems LLC demonstrating NGL Water Solutions' investment into the Bakken. With the addition of the McKenzie and Dunn county facilities, NGL's total U.S. treatment and disposal capacity is expected to reach approximately 800,000 barrels per day.
"NGL Water Solutions has evaluated opportunities to enter the Bakken Shale play for some time. With the addition of the WaterWorks and Saltwater Disposal Systems assets, NGL is pleased to enter this market with high-quality assets and employees," said Jim Burke, president.
"We look forward to establishing NGL Water Solutions in the Bakken, as well as identifying opportunities to expand our footprint and apply our extensive technical expertise in water treatment."
Looking ahead at some water innovations, Russ Rankin, a regional manager for Statoil, is already seeing positive results on two wells with new water technologies.
"We are looking at non-aqueous types of gas where we are just using CO2. We've been really focused on the opportunity with using water as a beneficial use," Rankin said. "We actually used a 100 percent produced water on two of our wells just north of town (Williston) here. We were able to get the fluid properties we need in order to get the product put away. Initial results look very promising."
Rankin said they will continue to study it, but reiterated that this process is taking Bakken produced water and using it for their fracking purposes.
Some argue the technology is already arrived and is waiting for the infrastructure to be developed. While centralized water treatment plants and storage facilities are crafted and constructed, trucks will continue to transport the water and waste. However, hauling and management costs have shown reductions in some shale regions as high as 50 percent, indicating a large enough savings to see beginning stages of centralized recycling networks and new infrastructure plans.
According to the FracFocus Ceres report, the water business is the real deal. In the world of money and budgets, the bottom line in the Bakken advanced water recycling game could net the equivalent to approximately $350 million in annual savings for the region. With those savings, it just might be water water everywhere in the Bakken.
Be the first to know
Get local news delivered to your inbox!