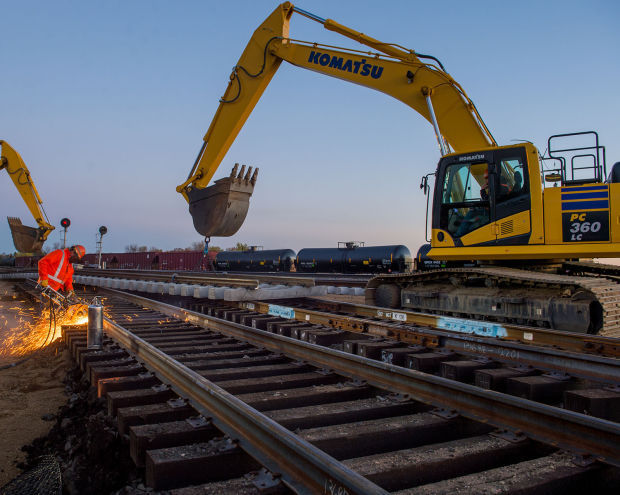 BNSF Railway Company will invest $326 million in rail capacity improvement projects in North Dakota — part of the company's largest planned capital expenditure in its history.
"This year's substantial investments in North Dakota are a clear reflection of how important our operations in the state are to our overall network and our unwavering commitment to always operating safely," Tom Albanese, BNSF general manager operations Twin Cities Division, said in a statement.
In recent years, the railroad has had an increase in demand across all sectors, from agriculture to oil to building supplies and more. The increase caused a backlog in grain shipments across the country, especially in North Dakota last year.
"In recent weeks, the backlog of grain car orders in North Dakota has been substantially reduced. Part of this improvement can certainly be attributed to the capital improvement projects BNSF is undertaking, and I am pleased their 2015 plan includes further significant investments in our state," Rep. Kevin Cramer, R-N.D., said in a statement.
BNSF spokeswoman Amy McBeth said those investments will continue despite the dip in crude oil prices. She said the investments are being made to meet the demand the railroad is already experiencing and are not for one industry segment in particular.
The investments in North Dakota are part of BNSF's larger capital commitment of $6 billion across its rail network announced in November. 
BNSF's 2015 capital projects in North Dakota include:
Construction of 37 miles of double track between Minot and Williston
Centralized traffic control signaling in Devils Lake, Dickinson, Hillsboro and Jamestown to increase capacity and improve train flow
Connection track upgrades between Hillsboro and Devils Lake
Extending siding between Mandan and Glendive, Mont., enabling trains on the same line to pass
Expanding capacity of the Dickinson Yard to accommodate expected growth in single car volumes
BNSF's maintenance program in North Dakota will include 1,164 miles of track surfacing and undercutting work, replacement of 97 miles of rail and about 393,500 ties and signal upgrades.
McBeth said the railroad has started prepping for these projects with plans to start construction come spring. 
McBeth said last year the railroad made a $400 million investment commitment. By the end of the year it had actually invested $506 million in infrastructure. She said 2015 will be a continuation of last year's work to improve service.