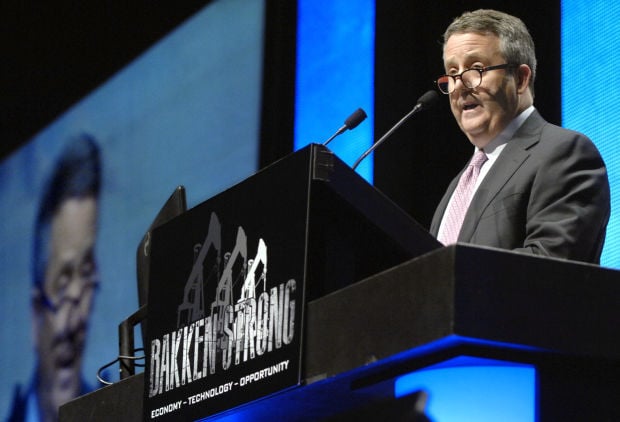 BNSF Railway's executive chairman said the railroad is taking measures to prevent another accident like the Casselton train derailment.
Matt Rose spoke Wednesday at the Williston Basin Petroleum Conference in Bismarck. The conference runs through today.
In his talk, Rose advocated investment in new rail cars with thicker shells and the phase-out of the commonly used DOT-111 tank car in an effort to increase safety.
Ron Ness, president of the North Dakota Petroleum Council, asked if the findings of a study recently conducted by the council stating North Dakota Bakken crude is no more volatile than other shale oil would change BNSF's mind on how it responds.
"We have to hold ourselves up to the communities," Rose said in response, sticking to his statement that the gas in the oil either needs to be reduced or new rail cars need to be implemented.
The Dec. 30 derailment near Casselton, west of Fargo, forced residents of the town to evacuate.
Rose said the railroad learned from the derailment and is implementing safety policies in response to it.
"BNSF believes at the end of the day that every rail accident is preventable," Rose said.
BNSF has agreed to slow down oil trains in urban areas as part of a voluntary program to increase crude by rail safety.
Trains carrying oil will go no more than 40 mph in urban areas, which Rose said means 9 percent of the railroad's trains will be moving at a slower clip.
Rose said BNSF also is offering crude specific response training for emergency personnel along crude by rail routes.
Of new traffic on BNSF's railway, 20 percent comes from North Dakota.
Rose said BNSF moves 700,000 barrels of crude oil per day on its network. The company had a record month of 29,000 units of sand hauled in April,
240 pickups per day hauled to Fargo and St. Paul, Minn., and a 17 percent increase in grain loading in April, he said.
Rose told attendees even with the increase of crude oil by rail, farmers need not worry. BNSF wants to be able to handle all business.
The last two years have marked record investment by the railroad. Rose said the company will continue to invest in more infrastructure rather than allocate cars either to oil or agriculture. Any allocation that takes place will be short term, he said.