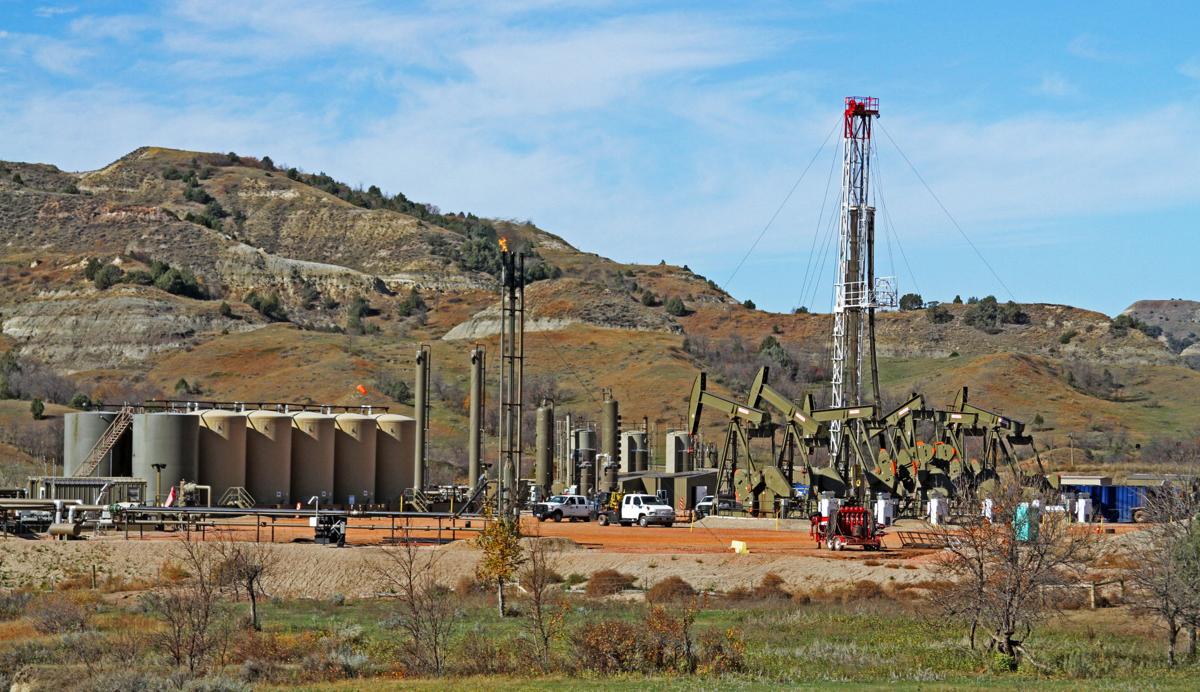 Work is slated to begin July 16 to plug the first of North Dakota's abandoned oil wells under a new program approved by regulators Friday that's considered a potential model for other states.
The state plans to use $66 million in federal coronavirus aid to plug and clean up at least 239 abandoned wells and other oilfield sites. Regulators expect to return 2,200 acres to agricultural use, primarily in the older northern oilfields of Bottineau, Renville and Ward counties, but also in western North Dakota.
"Our goal by the end of the year is to have topsoil on every one of these sites, either ready for crops to be seeded in spring or native grasses already seeded and ready for the fall rains," State Mineral Resources Director Lynn Helms told the Industrial Commission Friday. "It's going to be an enormous process."
The three-member commission, chaired by Gov. Doug Burgum, approved a number of orders Friday to plug the sites, which are operated by 50 oilfield companies. The commission also authorized grant money for a carbon capture and storage project at Blue Flint Ethanol in McLean County.
Other oil-rich states, meanwhile, are eyeing North Dakota's abandoned well program. Helms said a bill is in the works to disperse $1.8 billion in federal dollars to states to plug old, nonproducing wells whose owners have shirked their cleanup responsibilities. The Canadian government, meanwhile, is funneling $1.7 billion to three provinces for similar work.
Attorney General Wayne Stenehjem said he already fielded a call from Oklahoma's attorney general, who was curious about North Dakota's efforts.
"I told him I would tell him all about it as long as he didn't try to steal any of our employees from up here," Stenehjem said with a laugh.
Between the plugging and reclamation portions of the program, North Dakota officials hope to keep about 1,000 oilfield workers employed full time for six months, Helms said, adding that about 9,500 workers in the oil and gas sector have filed for unemployment this spring. More job losses are expected in the weeks ahead as dollars run out from the federal Paycheck Protection Program, an effort to keep workers on the payroll amid the pandemic.
The state will start accepting bids for the work on Monday and plans to require significant documentation to show to any federal auditors looking into how coronavirus relief aid was used by the states. More wells could be added to the program down the road. One final approval is needed from state lawmakers, who next week will decide whether to approve spending more than $400 million in federal coronavirus aid. Included in that amount is $33 million for the cleanup work once the wells have been plugged.
Carbon storage dollars
The Industrial Commission on Friday also approved a nearly $3.4 million grant to study a potential carbon capture and storage system at Blue Flint Ethanol next to Coal Creek Station. The research will involve drilling a well to further examine the rock formations underground where carbon dioxide would be injected.
Regulators will not require Midwest AgEnergy Group, which operates Blue Flint, to repay the money if Coal Creek closes and the ethanol plant runs on a fuel other than lignite coal, as was initially recommended by an advisory council. The group, known as the Lignite Research Council, indicated earlier this month that it would still support the project without the payback condition as the research could help future carbon storage efforts in the area, as well as aid in the search for a new owner to take over Coal Creek.
Burgum said the state is "probably underinvesting" in research and development on carbon emissions because more money is spent "to try to put carbon industries out of business" than on finding solutions. Carbon dioxide is a greenhouse gas that contributes to climate change.
"This is not coal versus ethanol versus oil and gas," Burgum said. "This is the world against anything that produces carbon. Having collaboration among ethanol, oil and gas and coal in North Dakota is critical."
The commission also authorized the transfer of a $4.2 million grant to the Energy & Environmental Research Center at the University of North Dakota, which will carry out a preliminary study on the feasibility of a carbon capture and storage system at Coal Creek. Great River Energy was previously going to use the money for the research, but it announced last month that it plans to close the coal-fired power plant in 2022. State officials and coal industry representatives hope to find a new owner.
Under the new arrangement, Great River Energy still will contribute $1.3 million toward the effort, said Mike Holmes, vice president of research and development with the Lignite Energy Council. The U.S. Department of Energy also is providing $2.4 million.
Be the first to know
Get local news delivered to your inbox!