1956
Best Actress: Anna Magnani
Film: "The Rose Tattoo"
Film Smart Rating: 88.17
Role in film: Serafina Delle Rose
Synopsis: Based on a play by Tennessee Williams, this classic drama centers on Serafina (Anna Magnani), a widowed Sicilian woman living in the American South who is left devastated by the death of her husband. Grief turns her into a recluse, but she is drawn back into the world when she learns of her late husband's infidelities. Meanwhile, the arrival of a new lodger, handsome truck driver Alvaro (Burt Lancaster), offers hope of a new love in her life.
1957
Best Actress: Ingrid Bergman
Film: "Anastasia"
Film Smart Rating: 89.05
Role in film: Anna Koreff / Anastasia
Synopsis: Could an amnesiac refugee named Anna Anderson (Ingrid Bergman) truly be the Grand Duchess Anastasia, purported sole survivor of the execution of Czar Nicholas II and his family during the Bolshevik Revolution of 1918, and therefore the rightful heir to the Czar's fortune? Backed by a group of White Russian exiles led by General Bounine (Yul Brynner), she faces her possible grandmother, the imperious Dowager Empress Maria Feodorovna (Helen Hayes), and the fortune-hunting Prince Paul (Ivan Desny).
1958
Best Actress: Joanne Woodward
Film: "The Three Faces of Eve"
Film Smart Rating: 89.44
Role in film: Eve White / Eve Black / Jane
Synopsis: Suffering from headaches and inexplicable blackouts, timid housewife Eve White (Joanne Woodward) begins seeing a psychiatrist, Dr. Luther (Lee J. Cobb). He's stunned when she transforms before his eyes into the lascivious Eve Black, and diagnoses her as having multiple personalities. It's not long before a third, calling herself Jane, also appears. Through hypnosis and continued therapy, Luther struggles to help Eve recall the trauma that caused her identity to fracture.
1959
Best Actress: Susan Hayward
Film: "I Want to Live!"
Film Smart Rating: 90.98
Role in film: Barbara Graham
Synopsis: This film tells the riveting true story of brazen bad girl Barbara Graham (Susan Hayward), a perpetual offender who tries to go straight but is sent to death row after being implicated in a murder. When journalist Ed Montgomery (Simon Oakland), whose initial newspaper articles on Barbara's crime played up her recklessness, becomes convinced that she may be innocent, he begins a desperate campaign to save her from the gas chamber.
1960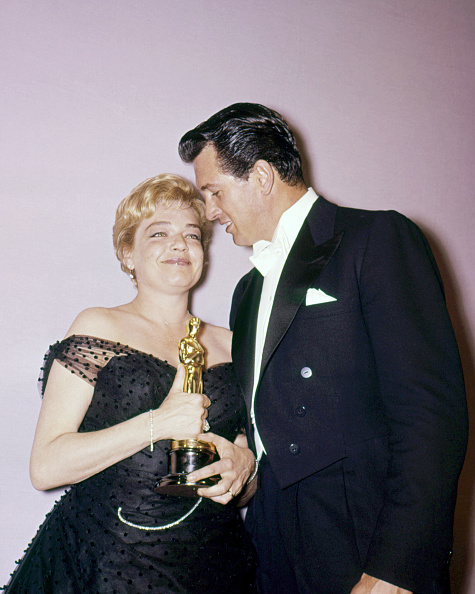 Best Actress: Simone Signoret
Film: "Room at the Top"
Film Smart Rating: 91.17
Role in film: Alice Aisgill
Synopsis: An ambitious young man from a poor family, gets a job in a mill town in Northern England. He woos the daughter of the richest man in town, but he also falls in love with a married woman with whom he has an intense affair. The married woman commits suicide and he finds himself married to a woman who loves him but whom he does not love.