Walkers n' Daughters Jewelers
624 Kirkwood Mall
Bismarck
,
ND
58504
Last Updated: December 12, 2016
| | |
| --- | --- |
| Sunday | |
| Monday | |
| Tuesday | |
| Wednesday | |
| Thursday | |
| Friday | |
| Saturday | |
About Walkers n' Daughters Jewelers
Look to us for the best in Jewelry & clocks in the Bismarck-Mandan area. We feature beautiful diamond, engagement & wedding rings, watches, clocks, repair services & other fine gifts.


ABOUT US

Walkers n' Daughters Jewelers in Bismarck, North Dakota, is a truly family business. Founded in 1933 by C.M. Walker (Charles), watch maker and father of current owner, LeRoy C. Walker, who is now retired. The business is entrusted to LeRoy's wife, Louise who manages the downtown store, although she is semi-retired. Daughter Susan manages the Kirkwood Mall Store. Susan's husband, Larry Weiand, is the clock manager, and performs all of the clock repair.

Because Walker n' Daughters Jewelers is a family owned and operated business, customers in this town have really come to trust them. Not too long ago, "A customer, who was in a rush, dropped off a box with three diamond rings in it," Louise admits. "He told the sales clerk, 'Don't worry; Louise knows what it's all about". We want all of our customers to be this comfortable with the store.

Emphasizing clocks, displaying more than 150 in each of the two locations, Walkers n' Daughters Jewelers offer customers watches and jewelry (karat gold, diamonds and colored stone pieces and pearls). In the 1970s, once LeRoy Walker received his Gemological Institute of America (GIA) degrees, Walkers n' Daughters Jewelers stressed the "ideal cut" diamonds because they had the mathematical maximum combination of brilliance and sparkle for the most beauty.
Two Bismarck, N.D. locations to serve you:

Product knowledge is very important at Walkers n' Daughters Jewelers. LeRoy recalls that back in 1970 "A customer wanted to look at some diamonds." After the customer had more questions than LeRoy had answers for, he decided 'That this would never happen again'. He immediately contacted the Gemological Institute of America (GIA) and started on the home study course. Now LeRoy is a Certified Gemologist through American Gem Society (AGS), as well as a Graduated Gemologist through GIA. Louise is a Registered Jeweler through AGS.

The foundations of the "ideal cut" mentioned above were laid almost a century ago, when Marcel Tolkowsky published a short book titled Diamond Design in 1919. This book presented the first analysis of diamond cutting based on the modern science of optics. Tolkowsky dealt with only a few proportions, a small number of light rays, and dozens of calculations, which were necessarily done without the benefit of modern calculators. As time went by and computers became more and more available, the cutting of diamonds became more exact and specific than even the "ideal cut", we refer to these as "super ideal cut".
These "super ideal cut" diamonds are more precisely cut and aligned than the "ideal cut" diamonds. Billions of computer calculations were used to create a detailed three-dimensional representation of the diamond's complex interactions with light in order to maximize the display of brilliance, dispersion and scintillation. The first company in the United States to produce such "super ideal cut" diamonds was the Hearts on Fire company and we were the first in Bismark to carry them. These "super ideal cut" diamonds are now available from numerous diamond firms, including Hearts for Eternity, and we carry them from a handful of cutters. We realize these incredible diamonds. known in the trade as "Hearts and Arrows", stand on their own merit, not needing a brand name, based simply on their sheer beauty and perfection in cutting. These diamonds are truly a masterpiece that is extraordinary in brilliance and sparkle.
Come and visit with Alan C. Walker, Certified Gemologist. He is ready to show you all of our Hearts and Arrows diamonds.



In addition to fine jewelry & gifts, we also feature delivery, as well as service and repair of clocks and watches. We have traveled as far as 200 miles to service a clock. If a clock is purchased from us, Larry will travel and fix it free of charge (with the two-year guarantee) in the Bismarck/Mandan area. Our experts have over 100 combined years of experience of clock repair. We have repaired clocks that were over 400 years old. We do all the repairs and clock maintenance ourselves; from simple cleaning to extensive bushings to manufacturing required parts ourselves.

Walkers n' Daughters Jewelers have been profiled in the national magazines The Goldsmith, and Jewelers' Circular Keystone, as well as locall coverage in The Bismarck Tribune for their fine service and beautiful products.

We thank all of our valued customers who entrust us with their jewelry needs. Our customers are the reason we continue to strive for excellence. We look forward to serving you.

A few of our name brands: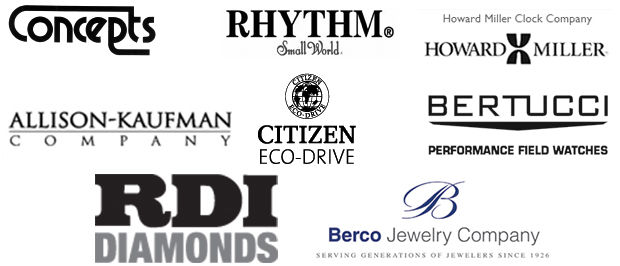 Accepts:

Cash

Check

Discover

MasterCard

Visa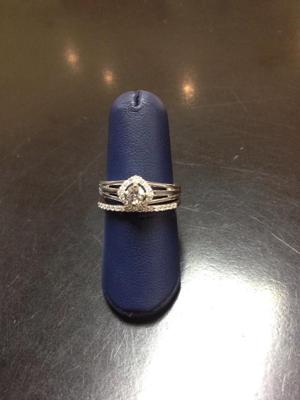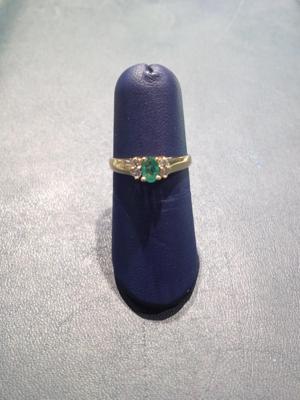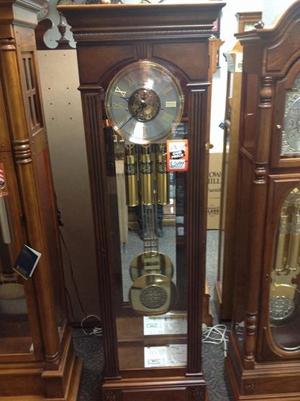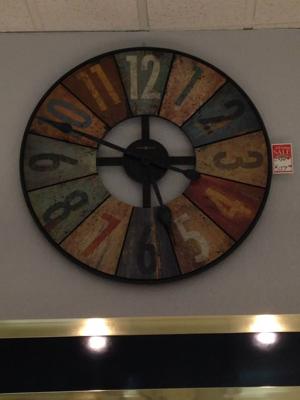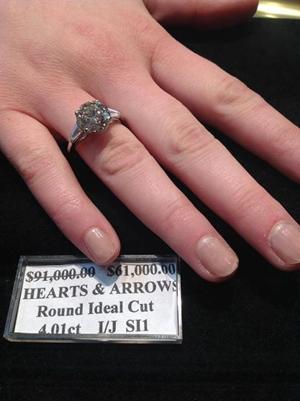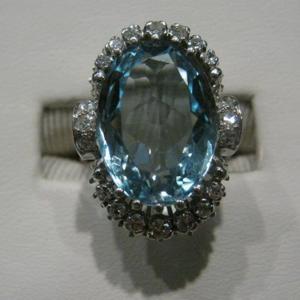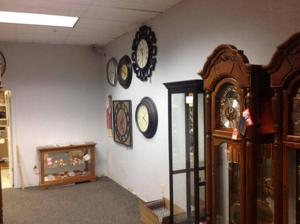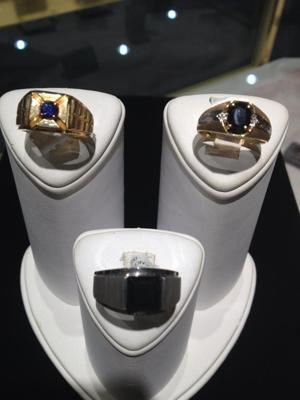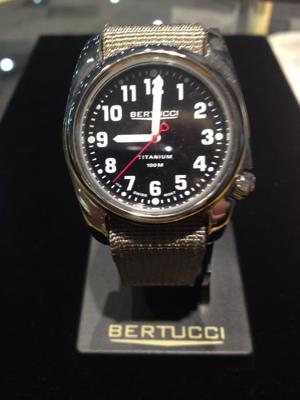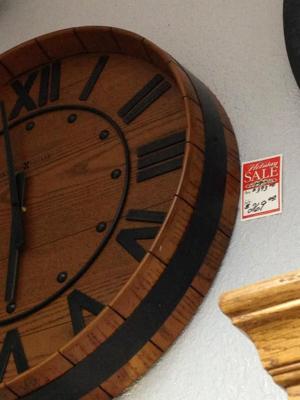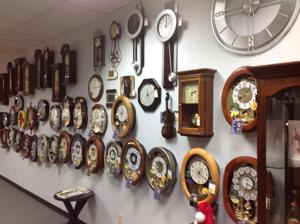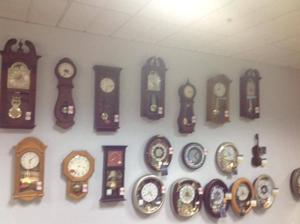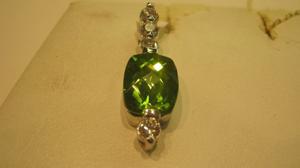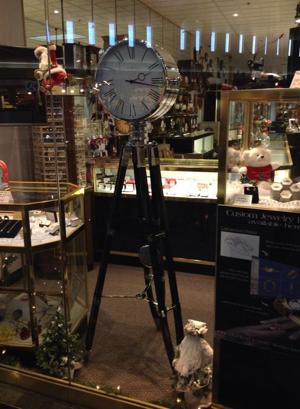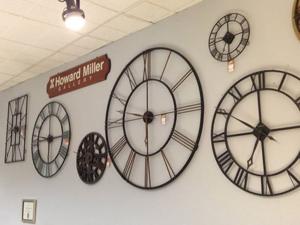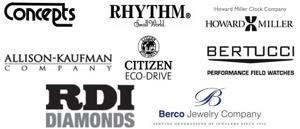 Look to us for the best in Jewelry & clocks in the Bismarck-Mandan area.