Enrollment projections threaten to overwhelm classroom capacity at Mandan Public Schools in the next five years, which Superintendent Mike Bitz characterized as "a big concern."
Enrollment is expected to increase by more than 500 students over the next five years in Mandan Public Schools, according to the latest enrollment projections presented last month to the Mandan School Board.
The high school, which is expected to be over capacity by 150 students, and some of the district's elementary schools will be short classroom space, prompting board members to discuss options.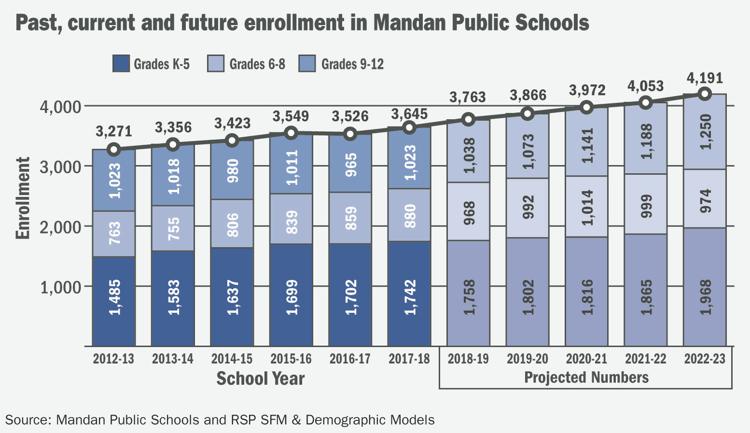 "It's almost like we need to start doing something in the next year or year and a half .... These are very sobering numbers," said School Board President Tim Rector. "I didn't think we would run out of space that soon."
Last year, the school board opted to build a 10-classroom addition onto Mandan Middle School. That expansion, scheduled for completion by August, will increase the school's capacity to 1,100 students — enough space for the projected 1,000 students in five years.
Bitz said the board will have to decide quickly on how to accommodate the increase in students at the high school, which is about 60 to 70 years old.
"It's an older building. I don't think there's any way we're going to do an addition onto the high school," he said.
Growth in MPS is parallel to that in Bismarck Public Schools, according to Bitz. 
Despite impending overcrowding at the high school, the latest enrollment numbers show "manageable growth," Bitz said.
"It's not something we have to be in panic mode," he said.
The school board will have to discuss elementary and high school space, which will likely occur at a board retreat this summer, according to Rector. District officials assigned certain space requirements for the six elementary schools, no larger than three sections, and one option could be building another elementary school.
The district purchased land in the Lakewood area in south Mandan, which could be an option for placement of another elementary school.
"(If) these numbers look like we need a new school, I want to make sure we need a new school before we build a new school and have a bunch of vacancies," said Rector, adding the district has been vigilant in not overbuilding.
Sheldon Wolf, a school board member, pointed out the board also needs to ensure the district has enough resources, including classrooms and teachers.
"We need to walk through that and look at our options and what we can do and what changes we can make," said Wolf, which he characterized as "not a light decision."
"To build a new high school, for example, is very expensive. What other options are out there? And there are options, we just got to talk through them," he said.
The school board's facilities and finance committee, which is composed of community members, board members and teachers, will look at alternatives this month to present to the board, Bitz said.