Following a day of wind chill warnings, the National Weather Service in Bismarck is predicting a relative warm-up Wednesday and Thursday before another deep freeze this weekend.
Wednesday and Thursday high temperatures will be in the positive digits for much of western North Dakota, NWS meteorologist Alex Edwards said. The north, central and northeastern parts of the state will be below zero, but there will be a less of a wind chill.
Downgraded from previous warnings, a wind chill advisory will remain in effect until noon Wednesday. The cold winds can cause frostbite within 30 minutes to exposed skin. There's a slight chance of about an inch of snow in Bismarck. The high is forecast to be 4 degrees and a low of minus 16 degrees.
Edwards said there's another chance of 1 to 2 inches snow on Thursday, but mostly in the southwest portion of the state, including Bowman, Slope, Stark and Grant counties.
Another arctic blast will hit the state this weekend. Temperatures across North Dakota will dip below zero Saturday and Sunday, with wind chills anywhere from minus 20 to minus 40. New Year's Day is forecast to have temperatures above zero again.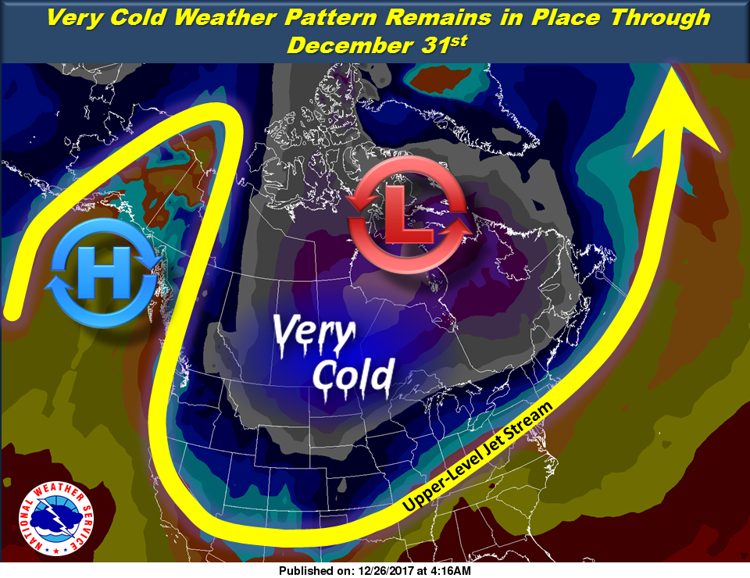 The next chance of a cold reprieve won't be until next week, Edwards said, trending more toward normal temperatures for this time of the year, which are highs in the low 20s.